State Police release official timeline for Lewiston mass shootings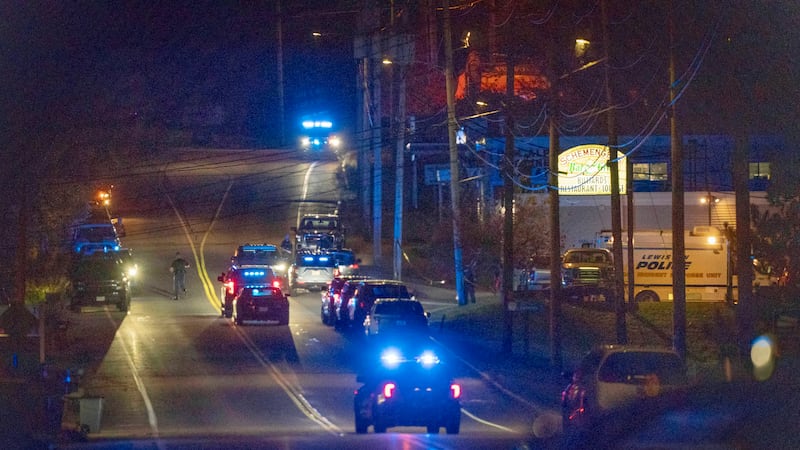 Published: Oct. 26, 2023 at 12:24 PM EDT
LEWISTON, Maine (WABI) -State Police release official timeline for Lewiston mass shootings.
Lewiston Shootings Timeline:
At 6:56 p.m., Wednesday, October 25, 2023 Auburn Communications Center was notified that a man walked into the Spare Time Recreation on Mollison Street in Lewiston and began shooting. This was confirmed by multiple 911 calls that followed.

At 7:08 p.m., The Auburn Communications Center received multiple calls that a man had come into Schemengees Bar and Grille Restaurant on Lincoln Street and began shooting.

Multiple law enforcement agencies and emergency medical personnel were dispatched to the scenes.

At 8:06 pm, police released a photo of the shooter to the media.

At 9:26 p.m., the Lewiston Police Department received a call identifying the man in the distributed photos as Robert Card, age 40, of Bowdoin, Maine.

At 9:56 p.m., the Lisbon Police Department notified Lewiston Police that they had located a white Subaru at the Pejepscot Boat Launch in Lisbon. The vehicle was identified as belonging to Robert Card.

Police have confirmed that there were seven people killed at Sparetime Recreation, and eight people killed at Schemengees Bar and Grille. Three addition people died after being transported to Central Maine Medical Hospital in Lewiston for treatment. An additional 13 people were injured in the shootings.

Names of the victims are not available at this time as police continue to identify victims and contact family members.

Currently there are over 350 law enforcement personnel involved in the search for Robert Card, comprised of officers from all over the state, and national agencies as well.

If anyone has any information on Robert Card or about the shootings please call 207.213.9526 or 207.509.9002.
Copyright 2023 WABI. All rights reserved.