Volunteers Work to Insulate Maine Homes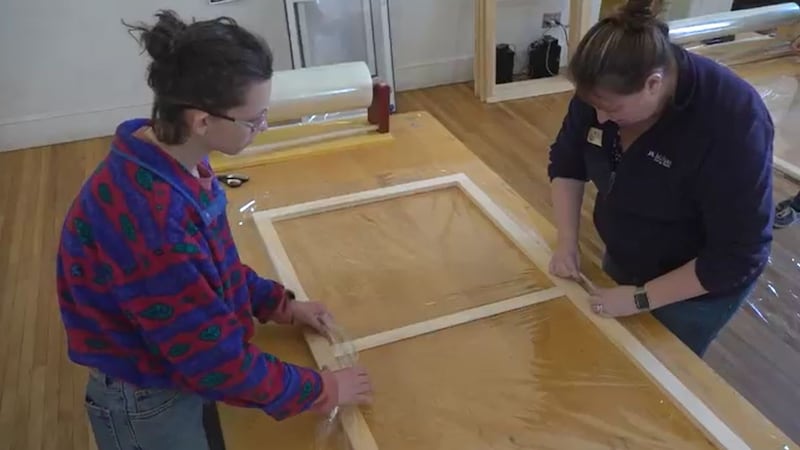 Published: Jan. 31, 2019 at 5:41 PM EST
Winter weather can take a toll, especially if you have drafty windows.
"We're taking wooden frames, wrapping them in plastic, putting a little foam around the outside so they can just pop them right in their windows." -Grace Braley, Community Impact Ambassador, Machias Savings Bank
The Rockland-based organization Window Dressers held a community workshop in Bangor to build insulating window inserts. It's the last of 33 workshops held this season around the state.
Tim Cole is volunteering to help build the inserts.
"My wife and I happened to purchase a house recently, and we had some of these inserts already there, and they're really handy, they're really efficient."
"It's environmentally sustainable because you're saving emissions." says Sharon Klein, a member of the board for Window Dressers. "It's economically sustainable because you're saving money, and it's socially sustainable because it's making people more comfortable."
"All of the labor to build the inserts and to wrap them comes from volunteers."
"It's UMaine students, it's clients, it's people from Machias Savings Bank today because they have some volunteer hours to put in." says Christine Seibert, Americorps Energy Efficiency Coordinator.
This helps keep the cost of the inserts low.
"Once you get the hang of it, you can really start motoring." says Cole.
The Bangor workshop is pumping out 267 inserts, and statewide, they've built over 3000 this season, thanks in part to some homegrown tools.
"It's totally a Maine thing, you know, where people are building new gadgets in their basement and using them to make the process more efficient." says Klein.
They've stopped taking orders for this season, but you can still go to windowdressers.org
"Click on order and we'll get you first in line for next season."