Tracking Fall Foliage: State Releases First Foliage Report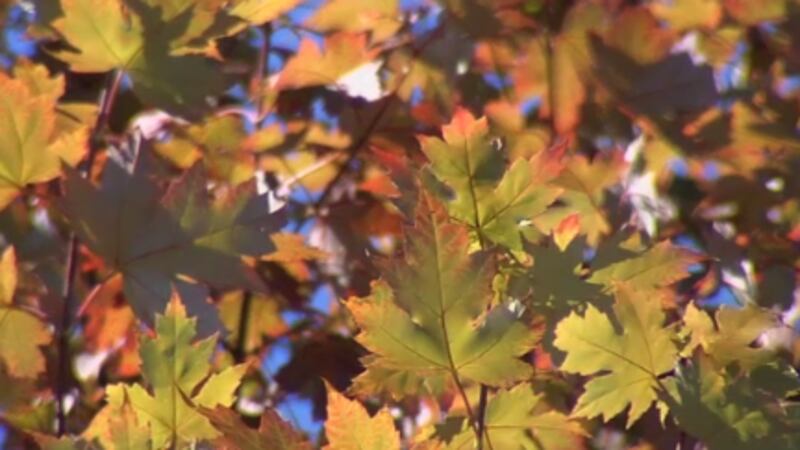 Published: Sep. 13, 2017 at 3:46 PM EDT
Yellow, orange and red. Those vibrant colors mark the beginning of a popular time in the Pine Tree State.
Will the lack of rain this summer affect the Fall Foliage Season?
Here's what experts had to say.
Believe it or not, Fall is upon us. We're already tracking foliage conditions.
According to this week's Fall Foliage Report, Northern Maine is seeing less than a 30 percent color change at this time.
"The cooler it is, the more likely it will change in early October. If it stays this warm, then the change is going to be later in October."
But for those who are noticing the leaves changing earlier than normal, it's due in part to the lack of rain.
"Because we've had a dry summer, this part of Maine has been under a drought, I've actually seen the colors change early."
Dr. Bill Livingston teaches in the School of Forest Resources at the University of Maine.
"This sugar maple behind me doesn't get a lot of water anyway, and this year with the lack of water, it's basically already shutting down and going dormant."
Because of that, trees like the Sugar Maple on the UMaine Campus are more dull in color and have a noticeable brown edge on the leaves.
"So if it's like this week, where you have warm nights and warm days, the color will be more brownish. If we get cool nights, down in the 30s, 40s, and then sunny days in the 60s, we can still have vibrant colors."
"It may seem earlier, but for the past few years, in my opinion, it has been later because of our warm weather.
Despite dry conditions, Gale Ross of the Maine Department of Agriculture, Conservation and Forestry says not to worry.
"It seems like it's typical this year and it seems like it's going to be a 6 week season rather than a 7 or 8 week season."
In all her years tracking foliage, Ross has never seen a season last less than six weeks.
Barring any extreme weather, we should see the vibrant colors we've all grown to know and love.
"In Northern Maine, probably going to be the last week of September into the first week of October. The rest of the state will start progressing from north to south mid-October and coastal Maine usually reaches peak conditions mid to late October."
We're told the best time to see the foliage is Columbus Day Weekend.
Autumn enthusiasts can visit the state's official foliage website to sign up for weekly updates. We have that info on our website.