Students Compete and Meet Potential Employers at Augusta Craft Championship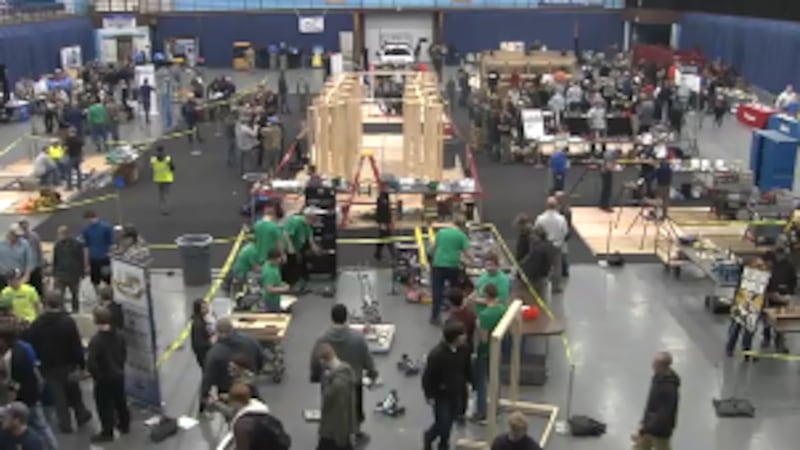 Published: Nov. 17, 2017 at 4:47 PM EST
More than a thousand students from throughout Maine got hands-on trade experience in Augusta Friday at the 2017 Craft Championships.
"You come here and you look around and there's literally everything here from masonry to electrician and I think that's amazing," says Bianca McCarthy, who attended the event with the Goodwill Take 2 program.
For 18 years Associated Builders And Contractors, ABC Maine, has been holding the Craft Championships as a way to give students a chance to get hands-on with trades in the construction world.
"We are experiencing a workforce shortage and this is an opportunity to meet some of their future employees," says Hope Perkins, President and CEO of ABC Maine.
They also get to compete.
"There's a very intense electrical competition going on, there's believe it or not a hammer competition the kids take very seriously," says Perkins.
"I find this a wonderful opportunity to bring all of our students to explore the different careers or trades that are available out there for them to consider," says Steven Hughes, an instructor at Dexter Tri-County Technical Center.
Perkins says she loves getting the chance to connect young people with contractors and loves seeing an increase in the number of females getting into the business.
"As a woman in construction, I believe there is a lot of opportunity for women as well as men. I'm a huge advocate," says Perkins.
"There's so many things to do, like you have some many options to choose from and you get to experiment and see what you want for a job which is really cool," says Taylor Nile, a student at Carrabec High School.
Organizers hope this event is one the more than 1,200 students attending will remember when they get ready to enter the workforce.
"You've got to start somewhere. You've gotta work your way up. Sky is the limit," says McCarthy.