Silver Moose Restorations finds success in repairing vintage campers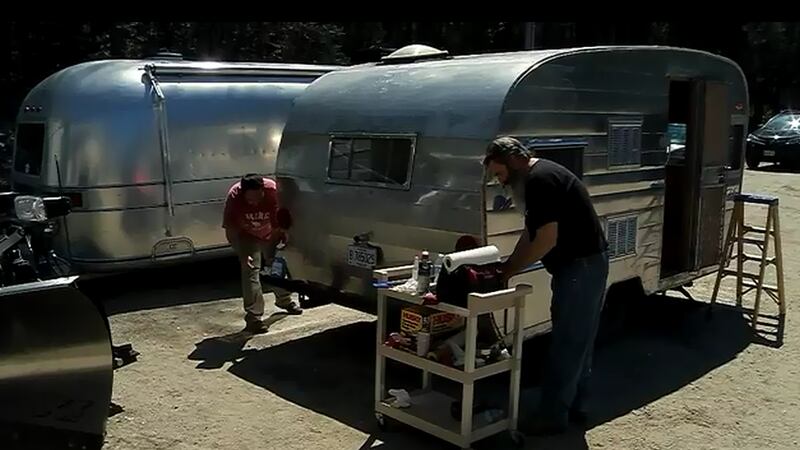 Published: May. 10, 2018 at 6:15 PM EDT
Silver Moose Restorations in Monmouth is a place filled with nostalgia.
It's where vintage campers go to get repaired. They take great pride in making old classic campers new again.
"It's fun, it's something new. And after building homes for 26 years it's something different."
Two years ago, Jim Roy and his wife bought a 1975 Airstream Land Yacht Sovereign in Topsham with the intent on fixing it up for camping.
"The frame actually broke in two on the way home so I started digging into it and quickly found out it was a lot more work than we were originally thinking," said Roy.
He posted the pictures of the rebuild online and realized his passion for vintage campers was shared by collectors across the country.
"People started following the build and before I knew it I started getting calls from people asking if I could work on their campers."
Those calls came in from New England, Florida, and Indiana. And so, Silver Moose Restorations was born, a small business bringing back the nostalgia of the 50's and 60's by cashing in on the resurgence of vintage America.
"It's pretty big out west right now in California, Oregon and down south. So as far as I know this is kind of new in Maine," said Roy.
Roy has owned JMR Home Improvement for nearly three decades.
Using the skills he's developed building homes, he and his construction partner Ron Reynolds, rebuild these campers from the ground up.
They say many of these campers have been neglected for years, and that neglect plus their limited space can make for difficult work.
"A lot of these have been stuck in somebody's backyard for 20-30 years and forgotten about. These things are 50 or 60 years old. They've been through a lot. They leak, and most of them are wooden interiors so they do tend to rot from the inside out," said Roy.
Some jobs take a week, others take months to complete.
"I used to do all new construction so doing a remodel, you don't really know what you're into until you start to take it apart and get into it. So I've really leaned the difficulties of taking something old and making it new again, which is actually quite rewarding compared to just throwing up a structure and walking away from it. You know, you see one of these pull out of the yard and you're like 'look at what we did.' That family is going to be using it for he next hopefully 50 years again," said Reynolds.
Roy also builds custom, period-accurate vintage dog campers as well. Doing his best to recreate a specific make and model using high-quality materials, these dog homes are as adorable as they are sturdy.
Roy plans to expand his business in the coming years and hopes that one day his full-time job will be rebuilding campers at Silver Moose Restorations.