Sex Trafficking Survivors Share Their Stories to Raise Awareness of Exploitation in Maine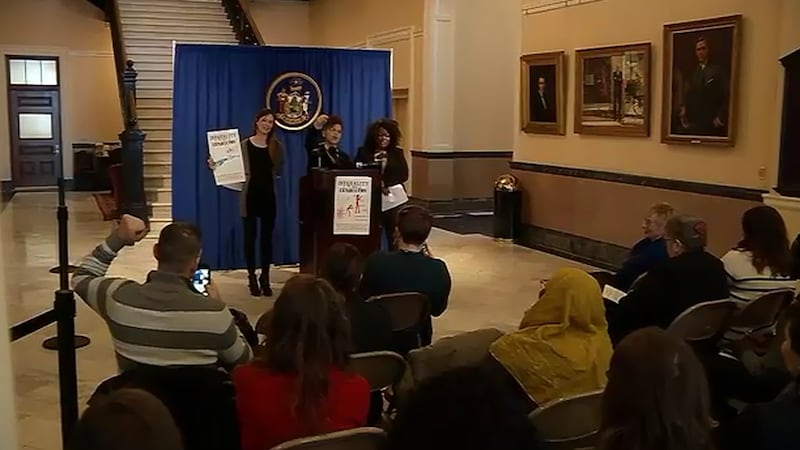 Published: Jan. 10, 2018 at 5:23 PM EST
While many assume sex trafficking happens in big cities and foreign countries, the truth is occurs in Maine as well.
An annual event in Augusta has been raising awareness of human trafficking in the state by giving survivors the chance to tell their stories.
"I didn't realize that there was a name for what had happened to me for 16 years. So I was trafficked when I was 15 and didn't even know that that's what had happened to me, and that there was a name. I always just assumed that it was my own fault, that I had done it to myself."
Tricia Grant is a survivor of child sex trafficking who now educates youth and adults about the harsh reality of human trafficking and sexploitation in Maine.
"I broke my silence and other people have been able to break their silence because I've been able to share my story," said Grant.
"I'm at a place now that I have my child back, I have my housing, I have a job. I didn't think I'd ever be able to get a job," said Tierra Ross.
Ross is a survivor leader with Survivor Speak USA, an organization dedicated to helping survivors of all forms of sexual exploitation.
The non-profit was founded five years ago by Dee Clarke, who was sex trafficked by a pimp in Boston when she was just 12 years old.
"Survivor Speak has been asking for vacature for a long time, pardoning doesn't work. A vacature means we're voiding it. We see you as a victim, you should have never been charged," said Clarke.
Clarke and her group say it's vital for survivors to share their stories so the people who inform laws hear what they have to say in hopes it may create real change.
"Maine says they see us as victims, they see what has happened to us and other women and girls as victims. Then prove that you see us as victims and remove the charges that you gave us when we were being victimized- and that is vacature, that's voiding it," said Clarke.
Survivors say it's difficult to break their silence and the cycle of violence and intimidation, but the stigma surrounding them after they try to get help becomes a barrier for everything from obtaining housing to securing employment.
Survivor Speak President Cary Dyer turned her life around after many years of struggling, but she says it would have been impossible without the support of advocates and friends.
"Now today I'm president. I just got my license, I've been to college since. So it's just to know that somebody cares and somebody understands and somebody gets it, but also the help's there," said Dyer.