People Race for Recovery in Bangor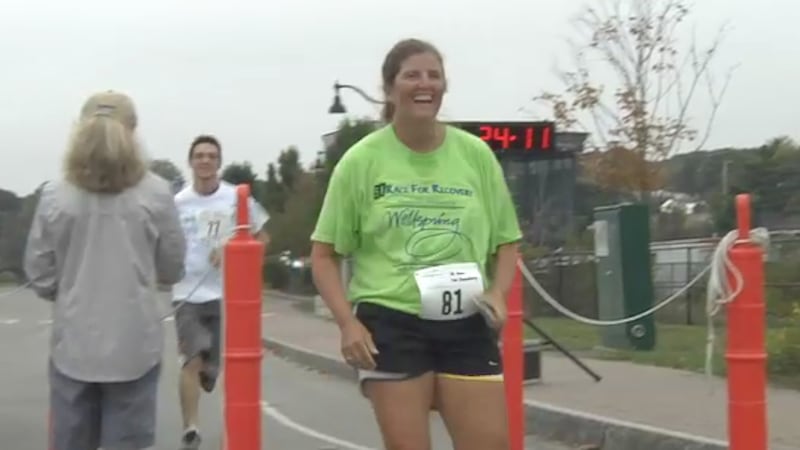 Published: Sep. 17, 2017 at 9:22 PM EDT
Runners raced for recovery in Bangor Sunday.
Suzanne Farley, Executive Director of Wellsprings Inc. says, "Everybody's out here standing in solidarity for recovery. They're working. They've come out here to do a 5K race to help us raise money to pay for folks who need substance abuse treatment."
Michael Campbell, a runner says, "Had a goal of 45 minutes when I started, and I actually broke 30. It's not hot. It's not very humid out which helps out a lot."
Dawn Pelletier, Race for Recovery Co-Chair says, "The theme for this is dedicated to all of those in recovery, and we believe that recovery rebuilds lives, families, and communities step by step."
Campbell says, "You know that you made a difference in, if even one life is affected by what we do here today, it's all worth it."
Jill Gardner, a runner says, "This is my first race, a 5K. It feels amazing. I got quite an adrenaline rush. I usually do about 2 miles a day at a very slow pace, and this was a lot faster with a bunch of people. So, it was really pretty thrilling. It feels amazing to be a part of a big group of people that are looking towards some solutions."
Farley says, "We're trying to say, look, this affects everybody. I don't care what class you come from. Rich, poor, everyone is affected by addiction. Most people know somebody who's been touched by addiction."
Pat Kimball, Race for Recovery Co-Chair says, "We want people to understand that we're not gonna judge. It's not a judgement call. This is a disorder. It's a brain disorder, and it's an illness."
Gardner says, "I think more people than ever now are affected by the disease of addiction, and alcoholism, and so the more education and awareness we can bring, the more we can help to move toward healing people that walk through that struggle."