Part 2: Honey bees benefit society, beekeepers report parasite destroys hives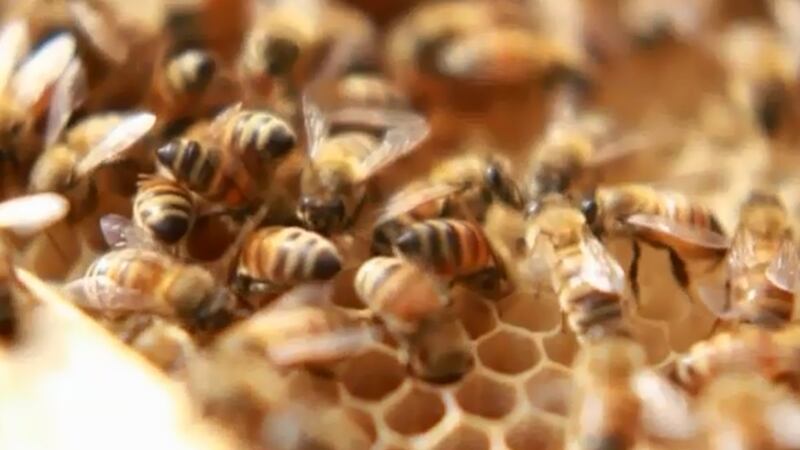 Published: May. 23, 2018 at 7:13 PM EDT
According to Maine State Apiarist Jennifer Lund, honey beekeeping has become popular with Mainers.
With more than 1,000 honey beekeepers in Maine, there are more ways to report what is happening with the insect.
From the day honey bees are born, they're hard at work. As they grow older, they're constantly changing their roles.
State Apiarist Jennifer Lund said, "They start off as nurse bees where they take care of young and then they progress to building wax cones and then processing honey, and then finally at the end of their life-they start collecting nectar and pollen."
According to State Apiarist Jennifer Lund, honey bees play an important role in our society.
She said, "Especially for the State of Maine honey bees are crucial for pollinating a lot of our crops, including our high bush blueberry as well as apple trees and our other fruit trees."
Local beekeepers agree.
Frank Drummond, Professor of Insect Ecology said, "They are so important to our blueberry industry-which is one of our largest agricultural industries for pollination."
So much so-we import honey bees.
"The way that we grow food and at the scale we grow our native pollinators in a lot of cases wouldn't be able to provide us with the amount of food that we require" Drummond added.
According to University of Maine's Professor of Insect Ecology, Frank Drummond, honey bees started buzzing when they came to the United States in the 1600's.
Drummond said, "Honey bees were brought over by the first European colonists."
Drummond has spent 10 years researching honey bee health and 30 on wild honey bee population.
"In the early 80's, honey bees were very healthy. They survived at high rates and basically you could have a colony of bees and walk away and come back five years later and it would still be there. The situation now is unless you nurture and manage the bees very carefully, in two years they'll be dead," he added.
Lund said honey bees are definitely struggling across Maine.
"Our beekeepers are reporting losses around 50%, and I suspect, I don't have the numbers quite for this year, that will be in the same ballpark," said Lund.
For local beekeeper Gary Hanes, this year a decline in his hives was due to cold temperatures.
"I started into the winter with six hives and I ended up losing three of them. There were some periods where it just got too cold, they couldn't move to the sugar, and they ended up starving," said local beekeeper, Gary Hanes.
Lund said the number one reason losses are occurring is parasites.
"About 70% of the losses I see when people call me to do a hive autopsy is due to Varroa Mites," Lund said.
Hanes said, "The year before I had 11 hives going into the winter and I lost nine of them- that was Varroa Mites."
Is there any way we can help save the bees? As for using pesticides Drummond said, it's a dilemma.
Drummond added, "You can lower the population of the Varroa mites but you can also stress honey bees. There are some plant derived pesticides that will kill mites that are less harsh on honey bees."
"Everyday citizens can make a difference as far as bee conservation goes. They can provide forage, so having fruit trees on your property or planting flowers can really help our native pollinators," said, Lund.
Lund said there are plenty of other ways to help the bees such as, providing a wood block for the bees to nest.This will provide them with a safe home.
And if you need to use pesticides around your yards, using the lowest dose when spraying plants and making sure to spray when the bees aren't around is key.
As for the Varroa mites, Hanes said he will now treat them as organically as he can to prevent hive loss.