Maple Syrup Season in Maine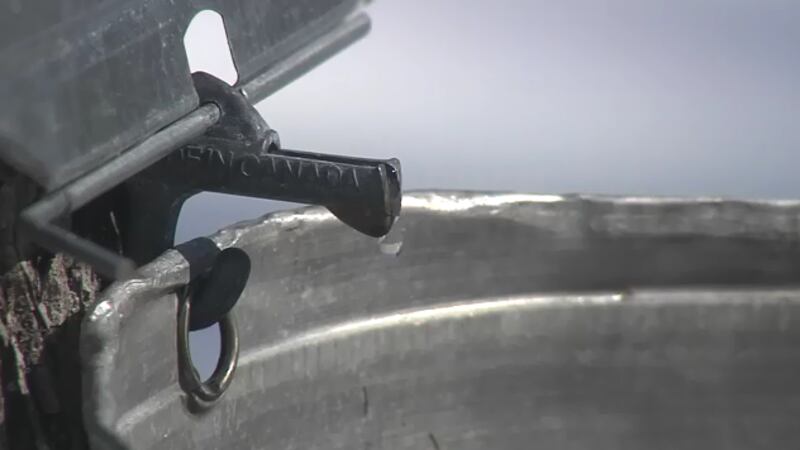 Published: Feb. 27, 2018 at 5:39 PM EST
All across the state, sugar houses are busy making maple syrup, including one in Old Town.
"We have a small sugaring operation here at the University of Maine," Said University Forest Manager, Keith Kanoti. "We tap about 350 trees with the students, staff, and faculty every spring and make maple syrup."
The process to make the sugary treat is simple, yet involves long work hours and a little patience.
"We start by collecting sap from the trees. We have two methods of doing that. We have the old fishing bucket method. (NAT) We also use tubing. And then we collect it up in the woods, bring it into the sugar house, pump it into a tank, and then it's just boiling. We don't add anything to maple syrup. All you're doing is just taking things away. You take away water, boil it until it reaches the proper consistency, drain it off, and filter it, and that's maple syrup. That's all you do."
Despite the cold winter, sugar makers say recent weather has been perfect for harvesting sap.
"If we continue to get those cold nights, warm days without too much prolonged warmth, we could have a pretty decent season. You just always have to sort of wait and see."
On top of bottling syrup, UMaine's sugar house also serves as an educational tool for students to learn about the industry.
"Maple has always been important to Maine, and the maple industry is actually growing. The product is being marketed farther afield then it ever used to be, so the importance of maple, regionally, is increasing."
For these guys, nothing says "spring" quite like the dripping of maple sap into the bucket.
"You sit around and you tell stories and you watch the sap boil. It's a heck of a lot of work, and there's a lot of long days. When the sap is ready, we're here. There's no better place to be than the sugar house in the spring."