Kids Go Carnival Crazy at Seacoast Camp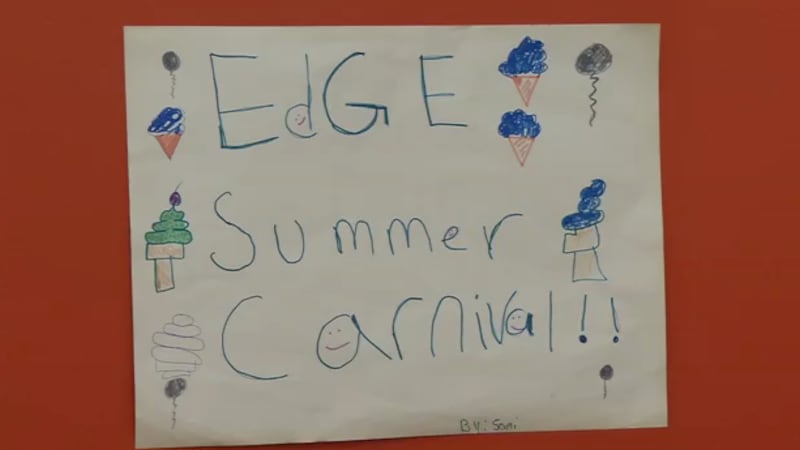 Published: Jul. 20, 2017 at 6:16 PM EDT
Kids are getting creative at summer camp in Machias.
Clio Hines, a camper says, "Carnival Camp lasts a week and basically what we do is make stuff for the carnival like wheel of fortune, the lemonade booth, or the toilet paper toss. On Friday, we set it up and we start the carnival."
It's all part of Maine Seacoast Misson's EdGE Program.
Isaac Marnik, Assistant Director of the EdGE program says, "The EdGE program has three summer camp locations. We have one in Machias, Millbridge, and Cherryfield. This is the last week of the Machias camp where we have about 70 kids come every day. We have a chess camp this week. We have a carnival camp that they're putting on for the final big shindig of the summer. The families get to come out and do carnival games with the kids. The kids created the activities. We also have a sports camp along with a computer coding camp."
Staff say it's a chance for kids to try new things.
Marnik says, "We give them a lot of options so they have a lot of experiences. Some kids learn how to play chess that haven't done that, learn how to computer code that haven't done that before. It's just a place to come together with their friends and have a positive experience over the summer."
Counselors point out there aren't many summer camps for kids in the area.
Marnik says, "We provide transportation for the kids to get to camp in Machias, so it's easy for any parent to send their kid to camp."
Hines says, "It's really cool and the counselors are nice and some of them, you learn things you never have."