Kids Dress in Pajamas for Read-In at Penobscot Community School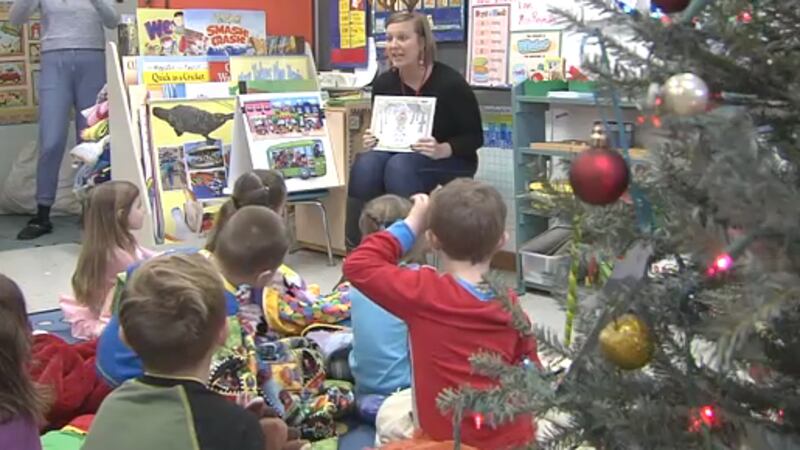 Published: Dec. 22, 2017 at 4:30 PM EST
It was a day full of pajamas, cookies, snuggles, and books at Penobscot Community School.
Staff held their second annual read-in for students before the Christmas holiday.
Emily Tadlock, WABI News Anchor, reads to kids saying, "I'm going to read a book today called 'Gingerbread Baby.' It was cold outside..."
It's the day before Christmas break and that means kids are filled with the holiday wiggles and giggles.
So staff at Penobscot Community School decided to make it a little more fun.
Ann Martin, a teacher says, "This is our second annual read-in. We call it 'Snuggle-in with a good book' and we do this right before the Christmas Holiday and that gives the children time to relax and prepare because trying to teach them at this time of year, it's kind of out the window."
Kids dressed in onesies and super hero robes, carrying teddy bears and blankets.
Even teachers wore their favorite sleepwear.
Martin says, "Who doesn't like coming to school in pajamas?"
Then they settled in for a long winter's read. From cries of awe to silly laughs, story time is fun for all ages.
Martin says, "Everybody reads and I've got guest speakers coming in."
While this may just seem like a fun day to kids, it's really a day to promote reading and literacy.
Martin says, "It's just such an important part and it enables the children to progress through the school year
with a love of reading which also transfers over to their academic performance and progress which we really want to encourage. It's just a really great way to start our holiday."