Flower and Garden Show comes to University of Maine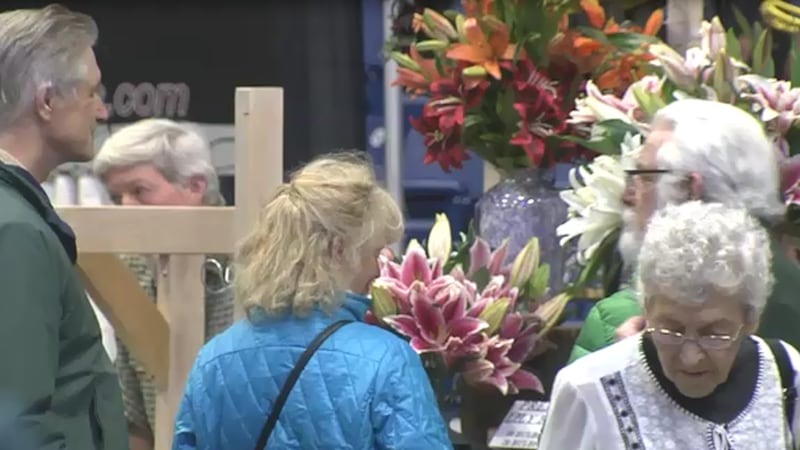 Published: Apr. 20, 2018 at 6:35 PM EDT
Dean Appleman, Show Prompter said, "This place is packed, it's blooming like spring."
"There was a line at the door at 10,this morning which is what we wanted to see" said, Granville Stone & Hearth's Justin Difrederico.
Spring's in full bloom in Orono with a show that has been going on for more than 15 years. But, this time with a new location and name.
Appleman said, "This is the brand new Bangor Garden and Flower show. It used to be at the Cross Insurance Center. We moved it here to the Alfond Arena."
There's also this change- a plethora of flowers.
"This show has lacked flowers for decades now. We are very excited because you can't walk without running into flowers here. The place is blooming, loaded with flowers, loaded with bulbs, loaded with plants, the designs are top-shelf" said, Appleman.
With more than 10 exhibitors on hand, you can browse a variety of outdoor products such as greenhouses, shrubs and decks.
Difrederico said, "We are here to showcase our materials, what products can beautify your landscape we sell everything that can help beautify the outdoors."
Demonstrator Nicole Serra has something different to feature- it's called the "Gourmet Grater."
Serra said, "Having flowers and our garden items, such as food and having things done fresh, why would you not want a little grater plate that actual does the work of many items that we would go and get? Generally, folks will use it for your harder to get at roots, such as, horseradish, ginger, turmeric, even things like cheese."
This is Serra's first time being a part of the event. She loves the variety it offers.
"It's cute, it's small but, there's a lot of folks interested not just in the flowers and their landscape but having fresh food and local beverage" said, Serra.
The event continues through the weekend with doors opening at 10 in the morning.
Admission is $10, children under 12 get in free.