Federal Funding Allows for Advancement in U-Maine Ocean Observing System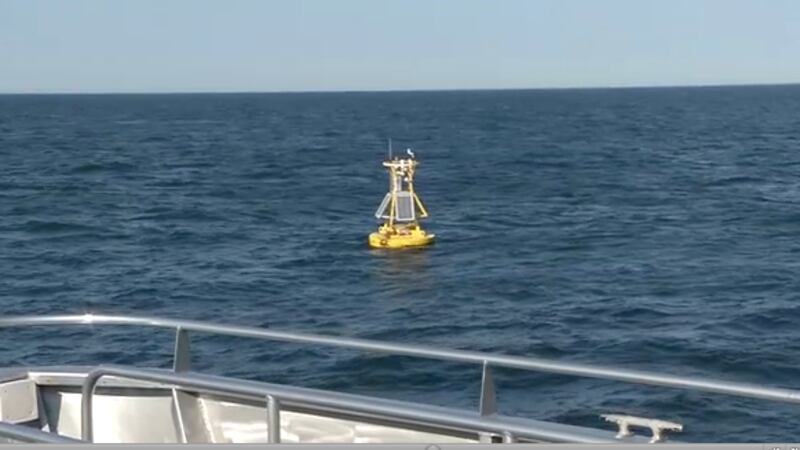 Published: Aug. 25, 2017 at 7:13 PM EDT
U-Maine's Oceanic Study Programs will receive a $795,000 federal grant.
That announcement from Congressman Bruce Poliquin Thursday.
He joined officials for a tour of the school's ocean observing system and the Cooke Aquaculture Farm off the coast of Bar Harbor.
Poliquin says, "Maine is all about the water. It's all about jobs, it's all about folks coming up to the great state and enjoying themselves. If that's going to happen, we need to make sure that we can keep our coast line safe."
The University of Maine's School of Marine Sciences has been working on a real-time ocean observing system in the Gulf of Maine.
This may look like just another buoy, but the technology attached is instrumental to many workers in the state.
Carl Gouldman of the National Oceanic & Atmospheric Administration says, "Having ocean information is important for our economy, our safety, and our livelihood. Having a system of buoy's and a system of experts in a regional area who understand the problems of Maine and are bringing information to the people that need it."
Lobstermen and Aquaculture Farmers say they use the buoys to check sea conditions and ocean floor temperatures.
Jim Dow, a lobstermen says, "I am just one representative of the industry. Everybody I know uses these buoys and they have them on their phones. So extremely important to us."
The Coast Guard uses it to save lives.
Commander Hector Cintron, of the Coast Guard says, "For a search and rescue case, and we're looking for an individual per say then we're probably going to be concerned with how cold is the water, how long is the person going to be able to survive which is going to drive how quickly we have to get there and expedite our resources but also in which way is that person or vessel is going to be heading."
Mariners use the data to determine if it's safe to go out.
David Gelinas, a Penobscot Harbor Pilot says, "We're responsible for all the commercial shipping that comes and goes on this coasts ports, so it's a hugely important part of this states economy and this helps us do the job safely, protect the environment, protect ourselves and to make commerce move as smoothly as possible."
U-Maine partnered with the Northeastern Regional Association of Coastal Ocean Observing Systems has been evolving their buoy system from year-to-year, constantly innovating new ways to use the system and incorporate more data.