Escaped murderer still at large; man who helped capture him in previous '81 escape looks back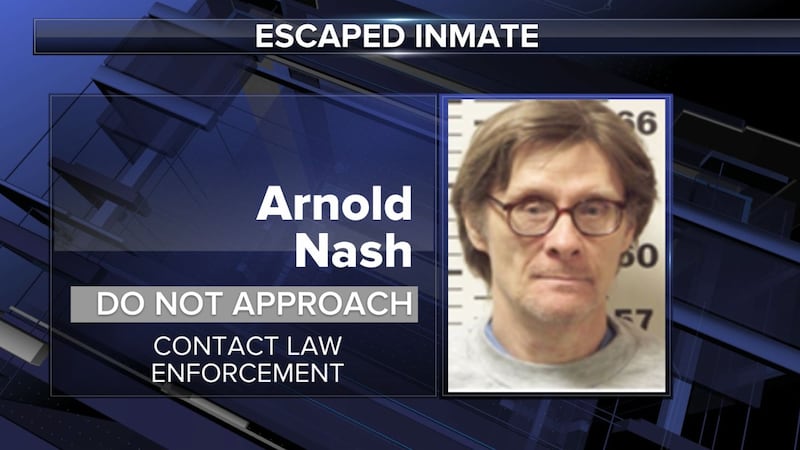 Published: Sep. 14, 2018 at 6:18 PM EDT
The search continues for a murderer who escaped from the prison in Charleston.
65-year-old Arnold Nash was last seen around 8:20 Thursday night.
His 45 year sentence for murder and robbery began in 1992.
He's 5'6", 160 lbs, with blue eyes and sandy hair.
He was last seen wearing blue jeans, a white t-shirt and a blue shirt.
Police say if you see him don't approach him, call police immediately.
Nash was due to be released next year.
This isn't the first time Nash escaped. In August of 1981 Nash and convicted murderer Milton Wallace fled from the prison farm in Warren.
We spoke with John Ford who was a game warden at the time of that manhunt, he helped capture Walace and Nash.
He says, "I remember Danny kept telling me, he says we're getting close the dogs are alerting. Well there was a big fir tree. We got just about 10 or 12 feet from it when this guy hollered, 'I've got you covered.' All you could see was a rifle barrel sticking out from the tree. Danny and I both jumped in the bushes. Danny let the dog go and they shot the dog. Somehow they escaped out of the area that day and was gone on the run for the next four or five days. That was when they broke into a house off of the Higgins Hill Road in Morril. Dennis Hayden and I got together again, with a bunch of state troopers there and we ran a track through the woods and got them out on an island. It was kind of a hectic time. I think my question now is, why he is at a place like Charleston Hill."
The men were on the run for 22 days before they were finally captured on Moody Mountain in Waldo County.
Just like this time around the last time Nash escaped he only had a year left on his sentence.
Again, if you see Arnold Nash, you are urged not to approach him. You should immediately call your local police.