21 year old artist creates Bangor mural to put spotlight on issues facing society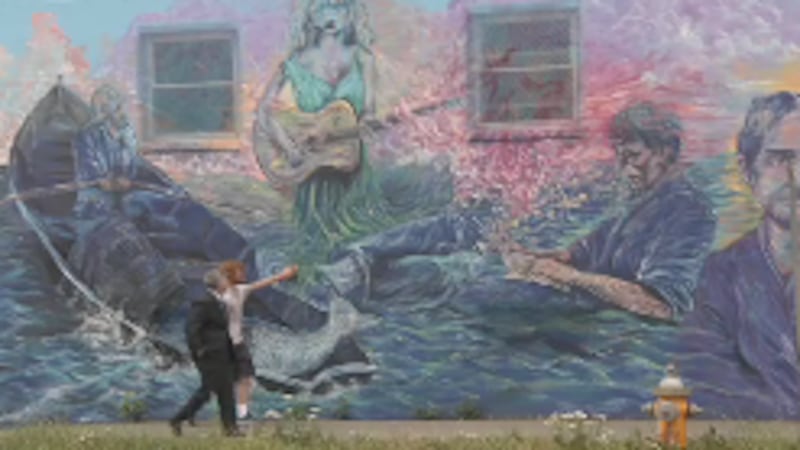 Published: Jul. 17, 2018 at 2:26 PM EDT
Battling mental health and substance abuse issues can be difficult and often those subjects are kept in the darkness or on the edges of conversations.
A new mural at the corner of Union and Second Streets in Bangor is bringing those topics out in the open thanks to work done by a 21-year-old Bangor artist Liam Reading on the walls of the Together Place. "It's like an ode to the people from Maine who are influential and inspiring, and being right across from the Y and being at the Together Place, you know just a little bit of color and inspiration for people walking by."
Those people gracing the pair of 900 square foot walls range from a Civil War hero, to Olympic champions, and a champion of people facing mental health issues, Dorothea Dix, who is one of the focal points on the Union Street side of the mural.
"She was one of the most important historical figures ever from Maine," said the Executive Director of Maine Mental Health Connections Inc Sean Faircloth. "She really raised up the idea of civil rights for people living with mental health challenges."
The size and scope of the piece is not lost on the UMaine student, Reading. "People will literally look up to these people now, and most of the people who pass would never really have known about these people."
After seeing other works Reading has done, Faircloth asked him to work on this project which has become his largest and most time consuming piece. "You're taking a risk when you hand something to an artist and say go for it, but I feel like Liam did a fantastic job and all credit goes to him for that because I said all right, here's some names of people, go for it, and he went for it, and I think the color, the aspiration, the brightness of what our facility hopes to do is kind of captured by his art in a really fantastic way."
While Reading wanted to depict people who've blazed a trail and should be admired, he also found affirmation of his own choices through the process. "I believe in sort of cosmic alignment like the world gives you what you put out there, and it's really just telling me like I'm on the right track as an artist because a lot of people don't believe in themselves as artists, and this is really just the first self affirming moment in my career."
To find out more details about the Together Place you can visit this website http://www.mmhc.us/together-place-recovery-center/, and there you will find their recover group programming schedule http://www.mmhc.us/wp-content/uploads/2018/03/Copy-of-Upcoming-event-11.jpg