20 men earn college degrees while incarcerated at Maine State Prison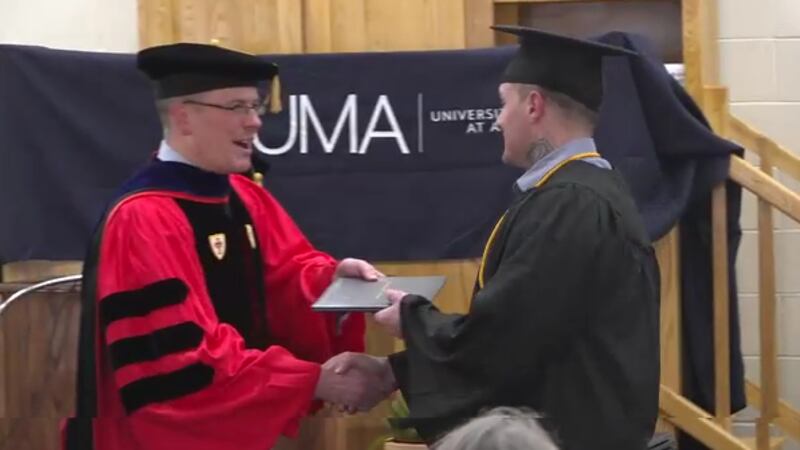 Published: Jan. 15, 2019 at 6:11 PM EST
20 men graduated with associate's and bachelor's degrees Tuesday.
But they didn't do it in a classroom. They did it while serving time at the Maine State Prison in Warren.
The University of Maine at Augusta began providing education opportunities at the Maine State Prison in 2006.
Since then, over 100 degrees have been awarded, and according to the Acting Commissioner of Corrections, Randall Liberty, not a single inmate who has been released has returned to prison.
He says, "Education significantly broadens their vision, their world view, and enhances their ability to critically think and become well spoken and well written, and they become a better citizen as a result."
Leo Hylton has been in prison for 10 years and still has roughly 30 plus years left on his sentence, but for him, this degree means hope.
Hylton says, "This means I have something no one can ever take from me. That means that at one point or another, I've lost everything and this is something that I'll always have. This is something I can take out and say, listen, even though I was locked up for X amount of years, I did something with myself. I accomplished something."
Hylton received his Bachelor's of Arts degree with honors and was awarded an academic achievement award.
His education along with many others have been funded through a grant and a generous donation from Doris Buffett of the Sunshine Lady Foundation.
Hylton says, "That was the best gift I've ever received. I thank God for that, and I thank God for Doris Buffet because she paid for my education."
Joseph Jackson was incarcerated at the Maine State Prison and essentially helped start the education program there.
He received his associate's and bachelor's degrees while imprisoned there and went on to earn his masters degree...He has now marked his 5th year since release.
Jackson says, "Being labeled a felon is almost like a death sentence when you walk back out the door, it's almost like a failure sentence because seven out of 10 return within five years and so for someone to get out with a real opportunity, not to come back, that's amazing."
Jackson is now employed as the Executive Director of the Maine Prisoner Advocacy Coalition.
In Maine, the current recidivism rate stands above 60 percent.
However, according to the Vera Institute on Justice, prisoners that participate in post-secondary education and training programs are 43 percent less likely to return to prison.