Maine Veterans Project hands out food to veterans for the upcoming holiday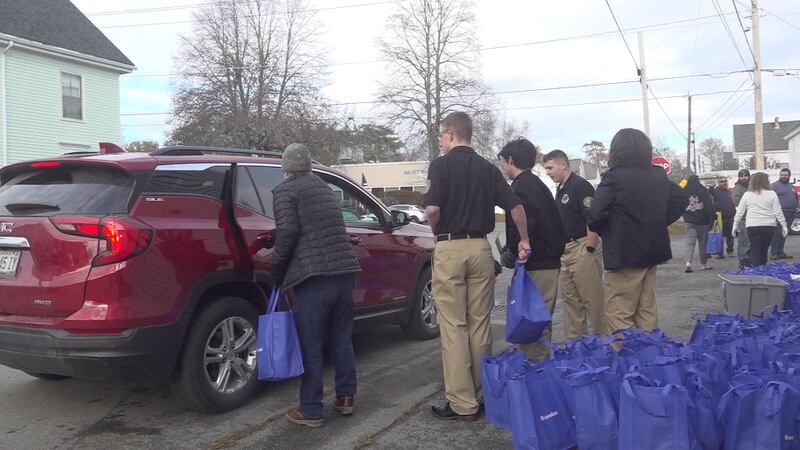 Published: Nov. 19, 2023 at 11:50 AM EST
BANGOR, Maine (WABI) -Volunteers gathered together to help out veterans in need this Sunday.
The Maine Veterans Project handed out lots of collected goods to veterans in the Bangor area.
As they drove up to the event each car was given a bag or more of food, a turkey, and some hygiene products.
We asked Doc Goodwin, president of MVP, and a member of Hampden Academy's NJROTC what it means for them to be involved in this event.
"So, this effort is a lot of hard work, but this is where we have our fun, it means the world to us to be able to meet these veterans, shake their hands, give them food, learn a little bit more about them and it's truly the, this is what we're here to do. This is why we exist." stated Doc Goodwin, President of Maine Veterans Project.
"Oh, it's not just about us helping it's about everyone that has been helping. So, I think it's important that we should help veterans. I mean they served our country so I think we should give back to them. When I see a veteran smile or I see someone happy, I just think it's great." said Ethan Williams, Hampden Academy NJROTC.
They also had the Hampden Academy NJROTC there, helping to hand out gift cards and coupons.
This event becomes more successful every year with overwhelming amounts of support from other organizations and the community.
For more information on the Maine Veterans Project, you can visit their website.
Copyright 2023 WABI. All rights reserved.