Biden tells residents of Maine city reeling from mass shooting: 'You're not alone'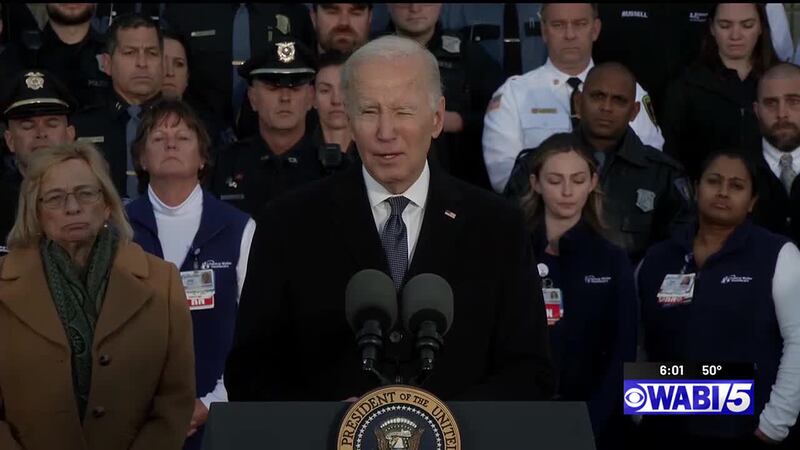 Published: Nov. 4, 2023 at 4:06 AM EDT
LEWISTON, Maine (AP) - President Joe Biden and first lady Jill Biden stood for a moment of silence and placed a bouquet of white flowers at a makeshift memorial outside Schemengees Bar and Grille, one of the scenes of the state's deadliest mass shooting.
Biden then bent to hug Kathy Lebel, owner of the bar where eight people died in the Oct. 25 massacre. Seven more died at the nearby Just-In-Time Recreation bowling alley, three others at hospitals.
Biden came to Lewiston on Friday for what presidents do in these moments of horror and grief: lend comfort to the families of the victims and show support for a reeling community. It's a trip that has become all too familiar, despite a bipartisan gun safety law passed last year after another mass shooting, and despite a series of executive orders by the president meant to curb gun violence.
"Jill and I have done too many of these," Biden said outside the bowling alley, standing in front of police officers, EMTs and others who responded to the shootings. "Jill and I are here, though on behalf of the American people to make sure you know that you're not alone."
Besides those killed, 13 people were injured in the shootings. Gunman Robert Card, a 40-year-old firearms instructor, was found dead of an apparent self-inflicted gunshot wound after the killings, following a dayslong search.
Authorities said this week that Card's family had brought their concerns about his deteriorating mental health to the local sheriff five months before the deadly rampage. He had also undergone a mental health evaluation after he began behaving erratically at a training facility last summer.
Signs hung around the town Friday read "Fix the mental health system" and simply "Be nice." Inside the town's elementary school, there were notes on the hallways made by students that read: "Lewiston strong" and "You ARE safe."
The Democratic president has said he's determined to fight gun violence in the U.S. and it's a large part of his reelection campaign platform. He created the first White House office of gun violence prevention, which is charged with finding solutions and fully implementing landmark gun safety legislation enacted last year. One of the leaders of the office was in Maine this week helping coordinate the federal response. Biden has also pushed for a ban on assault weapons.
"This is about common sense," he said Friday. "Reasonable, responsible measures to protect our children, our families, our communities. Because regardless of our politics, this is about protecting our freedom to go to a bowling alley, a restaurant, a school, church, without being shot and killed."
The president has visited many other communities scarred by mass shootings. He's been to Buffalo, New York; Uvalde, Texas; and Monterey Park, California, just in roughly the past year.
"As we mourn today in Maine, this tragedy opens a painful wound, all across the country," Biden said. "Too many Americans have lost loved ones or survived the trauma of gun violence."
As of Friday, there have been at least 37 mass killings in the U.S. in 2023, leaving at least 195 people dead, not including shooters who died, according to a database maintained by The Associated Press and USA Today in partnership with Northeastern University.
Members of the community visited the memorial outside Schemengees to grieve throughout the morning. Biden's arrival may help the city, but it's terrible that it had to happen, said John Murphy, of New Gloucester, who went to the memorial to pay his respects. "I'm sorry that he had to on this occasion."
It will take years for the community to heal, said Murphy, who is 70.
"It's going to be a long time. Maine is a beautiful state. A very peaceful state," he said.
There were also memorials paying tribute to victims outside Just-In-Time, the bowling alley where the shootings began. The sign outside read: "Lewiston Strong! Remembering our loss Oct. 25 2023."
Michele Stapleton of Brunswick said she was glad the president came to Maine.
"It's very encouraging to have a president who wants to speak about gun safety. For too long, politicians have maybe felt that way, but they were maybe afraid to say it," she said.
In fact, the shootings have many residents searching for answers.
Elizabeth Seal, who lost her husband Josh, said in an interview this week that she was frustrated to learn that semi-automatic weapons were used.
"In general, I have no issue with the use of guns," she said through a sign language interpreter. "Some people feel more comfortable having a gun for protection or for some it's a hunting tradition. But why do we have semi-automatic weapons available that people can get? That can cause such severe devastation?"
"I hope that our lawmakers will do something to change that," she said. "I don't see this problem in other countries, right? This is an American issue."
Overall, stricter gun laws are desired by a majority of Americans, regardless of what the current gun laws are in their state, according to an AP/NORC poll. That desire could be tied to perceptions that fewer guns would mean fewer mass shootings.
Lewiston city administrator Heather Hunter, who was present when Biden spoke, said she appreciated that the president focused on the right to be safe.
"I agree, safety is one of those rights that everybody should enjoy. We have to make sure everyone in our community understands that," she said. "This is the first set toward working to acknowledge that and to achieve that goal."
Biden was notified of the shootings as he hosted a White House state dinner honoring Australia last week. He stepped out of the event to speak by telephone with Maine Gov. Janet Mills and the state's representatives in Congress. On Friday, both Mills and Lewiston mayor Carl Sheline said the community was working to heal.
"We are resilient, strong and used to putting our shoulder to the wheel, Sheline said. "But nothing can prepare a community for the grief and sorrow of losing 18 souls to horrific violence."
Copyright 2023 WABI. All rights reserved.