Family member of Lewiston victim reacts to Pres. Biden's visit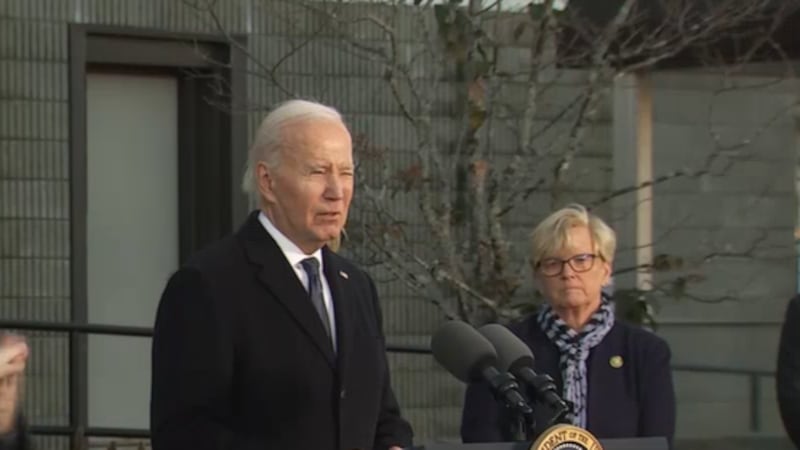 Published: Nov. 3, 2023 at 5:32 PM EDT
LEWISTON, Maine (WABI) - President Joe Biden visited Maine Friday to mourn with a community where 18 people were killed in the deadliest mass shooting in state history.
"This will be a long road to recovery. You know, I've been at this a long time. I know consensus is overly possible. It's about common sense. Reasonable, responsible measures to protect our children, our families, our communities, because regardless of our politics, this is about protecting our freedom to go to a bowling alley, restaurant, school church without being shot and killed," said President Biden alongside First Lady Dr. Jill Biden, Governor Janet Mills, Lewiston Mayor Carl Sheline, other members of Maine's Congressional Delegation, first responders, medical workers, and members of the Lewiston-area community.
Besides those killed, 13 people were injured in the Oct. 25 shootings at a bar and a bowling alley.
Ahead of President Biden's visit to Lewiston, people from the community had been stopping near the Just-In-Time Recreation Center to leave flowers and messages of support. It's also where the first of two mass shootings happened last Wednesday.
Among those killed was Donna Gendron's nephew, Jason Walker.
She said she first learned about the shootings from her grandson, who she said was on lockdown at a nearby Walmart facility that night.
She was among the many that stopped by the makeshift memorials ahead of President Biden's visit. "I'm so glad, you know, that the president is taking the time to come here to be with the families of the deceased," she said, also saying, "It does show that there is. . other. . that he's giving his support for the community as well and that is. . I'm grateful for that."
Biden was notified of the shooting as he hosted a White House state dinner honoring Australia. He later stepped out of the event to speak by telephone with Maine Gov. Janet Mills and the state's representatives in Congress.
"By visiting us in our time of need, the president and first lady are making clear that the entire nation stands with Lewiston and with Maine — and for that I am profoundly grateful," Mills said.
Copyright 2023 WABI. All rights reserved.