Documents: Family, staff sergeant feared Lewiston gunman was 'going to snap' weeks before shooting
New information fuels questions why state "yellow flag" law was not used in response to known threats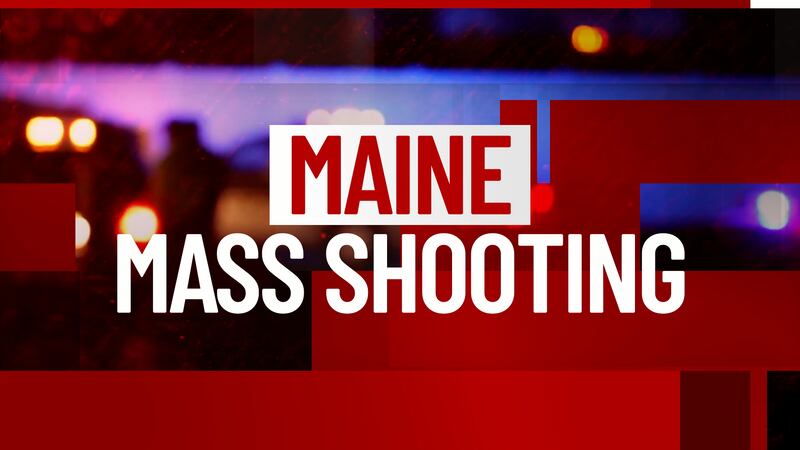 Published: Oct. 31, 2023 at 11:59 AM EDT
BATH, Maine (WMTW) - The family of Maine gunman Robert Card feared his deteriorating mental health nearly six months before the deadly mass shootings in Lewiston, according to law enforcement incident reports obtained by Maine's Total Coverage from the Sagadahoc County Sheriff's Office, which has jurisdiction over Card's hometown, Bowdoin.
The reports, released Monday night, detail two troubling incidents about four months apart this year. The first was in May, when two close family members reported Card was acting angry and paranoid, "likely hearing voices" and "claiming people were saying derogatory things about him, such as calling him a pedophile."
The family members had contacted the Sagadahoc Sheriff's Office on May 3. "Robert became very angry, accusing family members of talking behind his back," the incident report, by Sheriff's Deputy Chad Carleton, said. It added, Card was prone to answer his door while holding a handgun, according to his family.
Family members also told officers they were "concerned" Card had picked up 10 to 15 handguns and rifles that had been stored at his brother's home, the incident report said.
According to the document, the sheriff's deputy told the family he would rely on them to get Card to see a doctor.
Carleton wrote he told the brother, "If he believes he is a danger to himself or others, to please call us immediately."
In mid-September, a little over a month before the shootings at Just-in-Time Recreation and Schemengees Bar and Grille, in Lewiston, the second incident report details concerns among the U.S. Army Reserves, which Card had joined in 2002.
"Card is having psychotic episodes," the report, written by Sagadohoc County Sheriff Sergeant Aaron Skolfied said, adding that the Army Reserve Center in Saco, where Card was a member of the 3rd Battalion, 304 Training Group, urged a wellness check.
The Sheriff's Sergeant responded on Sep. 15 to a complaint similar to the family's -- that Card was hearing voices and acting in a belligerent way, shoving, punching, and assaulting fellow reservists.
"Card said he wanted people to stop talking about him," the incident report said. "Card said he has guns and is going to shoot up the drill center at Saco and other places."
The report said a Staff Sergeant Hogdson "is concerned that Card is going to snap and commit a mass shooting."
The reserve unit advised Card no longer had any of its weapons, with the commander, Captain Reamer, asking the Sagadahoc County "to gauge his mental health and determine if he is a threat to himself and/or others."
That day, Sep. 15, a Sagadahoc County Sheriff's Deputy tried to visit Card, but he was not home, according to Sagadahoc County Sheriff Joel Merry, in a written statement on Monday.
His office then issued a File 6 "attempt to locate" communication to other Maine law enforcement agencies. The all-caps alert described Card as "known to be armed and dangerous."
It said, 'Robert has been suffering from psychotic episodes and hearing voices."
Saco's police chief responded to the teletype alert by boosting patrols of the reserve center, he first told Maine's Total Coverage last Thursday.
The next day, Sep. 16, two sheriff's deputies went back to Card's home, where they spotted his car, the same white Subaru he would drive the night of the mass shooting, outside his trailer home.
"Card could be heard moving around inside the trailer but would not answer the door. Due to being in a very disadvantageous position we decided to back away," the incident report said.
Card's brother told the Sagadahoc deputy he and his father would be able to secure Card's guns. Sheriff Merry canceled the File 6 alert on Oct. 18.
On Oct. 25, Card went on his rampage Lewiston, killing 18 people and wounding 13 others. He was found dead from a self-inflicted gunshot wound two nights later at a recycling center, in Lisbon, where he previously worked.
The two incidents escalate questions about why Maine law enforcement did not initiate a "yellow flag" process to potentially confiscate weapons from someone deemed a threat by so many sources.
Sheriff Merry has declined to answer whether he contemplated doing so, but said in a written statement on Monday: "We believe that our agency acted appropriately and followed procedures for conducting an attempt to locate and wellness check."
In its first three years of implementation, from July 2020 through October 27, Maine's yellow flag law has resulted in 82 Weapons Restriction Orders, after a medical assessment of dangerousness, including 29 for fears of suicide risk.
Besides the Sagadahoc County Sheriff's office, a number of the Army reservists in the loop about Card's troubles included police in Ellsworth and Saco, sheriff deputies from Androscoggin, Kennebec, and Oxford Counties.
While county sheriffs initiated 21 of those 82 cases resulting in gun confiscations, not one originated in Sagadahoc County.
In between the two incidents in May and September, following Army Reserve training exercises near West Point, New York, on July 16, Card was ordered to a two-week stint for observation in a psychiatric hospital.
Just 10 days earlier, on July 6, in Maine, Card bought the AR-10 style, semi-automatic Ruger SFAR rifle rigged to fire large .308-clber bullets.
"The FBI's National Instant Criminal Background Check System (NICS) was not provided with or in possession of any information that would have prohibited Card from a lawful firearm purchase," the FBI said on Monday.
The gun was found in Card's abandoned white Subaru.
Copyright 2023 WMTW. All rights reserved.