"He was found deceased in a trailer": Authorities & city officials announce death of mass shooter
Card's body was discovered by Maine State Tactical team Friday night, located in a trailer in an offshoot parking lot owned by Maine Recycling Corporation (MRC).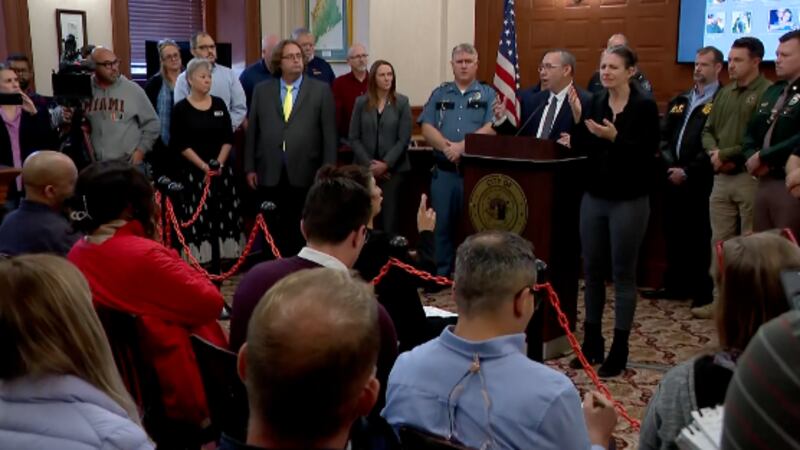 Published: Oct. 28, 2023 at 5:33 PM EDT
LEWISTON, Maine (WABI) - After a multi-day, statewide manhunt for suspected Lewiston mass shooter Robert Card, Maine can now take a deep sigh of relief.
"At 7:45 last night, Mr. Card was located deceased from a self-inflicted gunshot wound," said Dept. of Public Safety Commissioner Michael Sauschuck in the final press briefing of the Lewiston attacks Saturday morning.
Card's body was discovered by Maine State Tactical team Friday night, located in a trailer in an offshoot parking lot owned by Maine Recycling Corporation (MRC).
Authorities had cleared the area of MRC, where Card was employed until leaving last spring, twice before the business owner notified them of the separate overflow lot located across the street.
Sauschuck stated that three firearms were recovered, with one being found in Card's abandoned white Subaru station wagon and two on his person when his body was discovered.
"As for the firearms that have been recovered, they do appear to be purchased by him. Legally purchased. Some days before, some of them were purchased very recently and some of them years and years ago," stated Jim Ferguson, an agent of Bureau of Alcohol, Tobacco, Firearms and Explosives.
Less than a mile away from where the body was found was his abandoned white Subaru, parked at a boat launch.
There is a trail that runs along the Androscoggin River that connects the launch to the area of the overflow lot. Because there were no other vehicles or bicycles at the scene, Sauschuck stated that it is believed Card walked this trail to get to MRC.
Due to Card's work history and familiarity of the MRC property, Sauschuck called this "a natural connection."
Currently, the major motive authorities are suspecting is based on the shooter's mental health.
"Of what I've read and what I've seen is that the individual felt like people were talking about him, it may even appear that there were some voices in play here. And I think that led him specifically back to those two specific locations," said Sauschuck.
Card was recently hospitalized this summer due to his mental health. But, as Sauschuck explains, Maine's Yellow Flag law does not cover those who volunteer for treatment to be excluded from weapons restrictions.
"So in this scenario, I have not seen, to this point, that Mr. Card was forcibly committed for treatment. And if that didn't happen, then the NICS check, you could go into a firearms dealer who does all of their work and the background check is not going to ping like this individual is prohibited," explained Sauschuck.
Before discovering the body, police found a note that appeared to be written by Card in a relative's home.
"It's a note to a loved one and he's saying that this is the passcode for my phone, this is the bank account numbers," Sauschuck described. "I wouldn't describe it as a explicit suicide note, but the tone and tenor was that the individual was not going to be around."
Throughout the process, police say his family has been cooperative, with family members being the first three people to positively identify him after the fact.
With closure of his death, it is hoped that the impacted communities can now rest easy and come together to grieve the 18 lives lost and support the 13 injured and loved ones impacted.
"Right now, we want Maine to be remembered as the community that came together after this tragic event," said Lisbon Police Chief Ryan McGee
Lewiston's Mayor, Carl Sheline, also commented on the situation at the tail end of the press conference, "Lewiston is a strong city. We're a close-knit community and a resilient community. I know that will be okay as we move forward together as one Lewiston."
To help support victims of those present for the shootings, there is a Family Assistance Center set up at the Lewiston Armory at 65 Central Ave., open 10 a.m. to 7 p.m. for the foreseeable future.
For community members who were not directly there but are still looking for support, the Ramada Inn will be open from 9 a.m. to 1 p.m.
For those looking to help support Lewiston and the surrounding communities affected, visit this GoFundMe link.
Our hearts go out to the 18 people who lost their lives in the senseless act of violence:
Ronald G. Morin, 55

Peyton Brewer-Ross, 40

Joshua Seal, 36

Bryan MacFarlane, 41

Joseph Walker, 57

Arthur Strout, 42

Maxx Hathaway, 35

Steve Vozzella, 45

Thomas Conrad, 34

Michael Deslauriers II, 51

Jason Walker, 51

Tricia Asselin, 53

William Young, 44
Aaron Young, 14

Robert Violette, 76

Lucy Violette, 73

William Brackett, 48

Keith Macneir, 64
Copyright 2023 WABI. All rights reserved.