Several Topsham schools to participate in active shooter training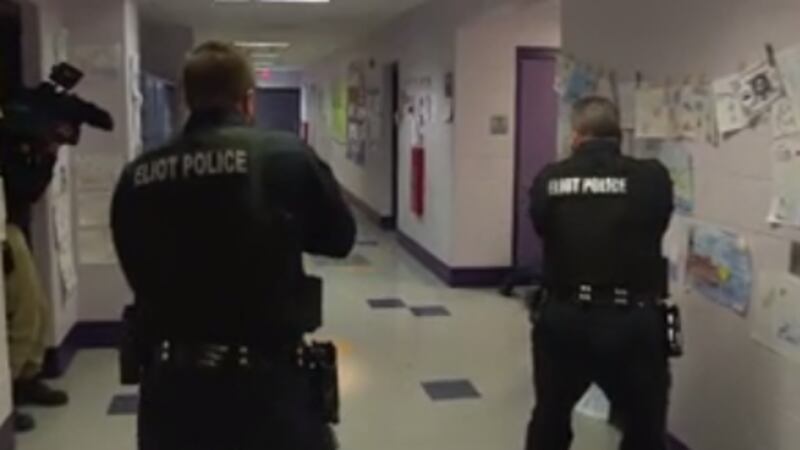 Published: Oct. 6, 2023 at 7:57 AM EDT
TOPSHAM, Maine (WMTW) - It's a sad reality. There have been 31 school shootings this year that resulted in injuries or deaths, according to Education Week.
Exercises that will take place in Topsham on Friday are all aimed at keeping kids safe.
It's a tough training to even talk about, but in this day and age, it's become top of mind for school districts like MSAD 75.
More than 500 of the district's employees will undergo active shooter training on Friday.
"We're not always in control of the circumstances around us, whether that be privately or professionally. But what we can do through preparedness and training is arm ourselves and deeply increase our chances of surviving incidents that can be violent and sneak up on us at any time," said Abbe Chabot, Dirigo Risk Management Solutions.
Dirigo Risk Management Solutions was hired by the district to conduct the training scenarios at seven schools.
"It is our aim to empower professionals and civilians of every genre into the reality that this is a terrorist lying incident. But we can only win if we're prepared and if we train," Chabot said.
Chabot is a retired Maine state trooper and said the exercise will be as close to the real thing as possible.
"So, we'll use simulated gunfire. There'll be no guns on scene, nor will there be any item that fires a projectile of any kind," Chabot said.
The noise will be utilized to best simulate a real operation, and a combination of active and retired police officers, school resource officers, and more law enforcement officials will be there to help.
Chabot says this work is critically important, saying teachers are compassionate — and tasked with looking after their students.
"To get them to a place where they can authentically and without stress address the fact that this is happening and they can do something about it and save lives and save themselves and save their students is really that's good life's work right there," Chabot said.
Here is a breakdown of where and when the training will occur tomorrow.
Mt. Ararat High School and Middle School will be from 8 to 11:30 a.m., and the five primary schools in the district will be trained from 12:30 to 4 p.m.
Chabot says simulated percussive noise is expected at approximately 11:05 a.m. and 3:35 p.m.
Chabot also said the regional communications center is aware of the training exercises and they are ready to inform concerned 911 callers Friday once the simulated percussive noise starts.
Copyright 2023 WABI. All rights reserved.