7 juveniles identified after vandalism was discovered at Lewiston school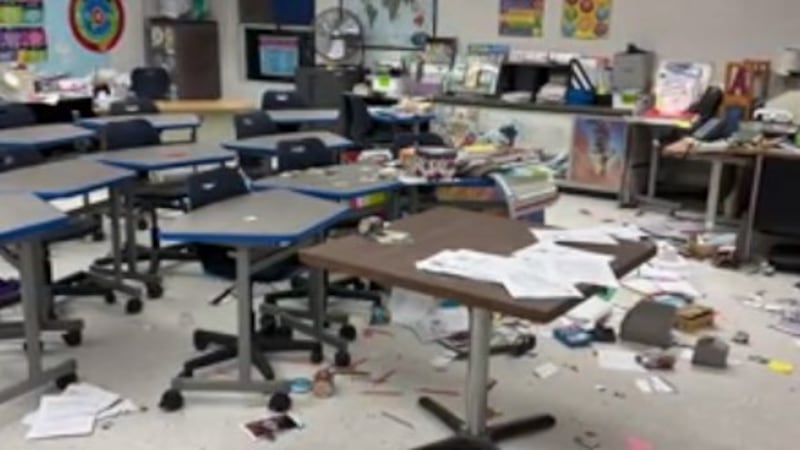 Published: Sep. 26, 2023 at 6:57 AM EDT
LEWISTON, Maine (WMTW) - Lewiston Superintendent Jake Langlais said seven kids between the ages of 8 and 12 broke into the former Longley Elementary School Saturday night by forcing open a back window.
Several classrooms at the former Longley Elementary School were vandalized, officials said. The school is currently being used for adult education classes.
School officials shared images of the destruction, which included toppled furniture and supplies tossed on the floor. In a medical training classroom, a plastic mannequin was destroyed.
"I was in the classroom this morning with a teacher who was tearing up because the entire space that she worked so hard to create for her learners – and this is for adult education – was destroyed," Langlais said.
This was the second time vandals hit Longley. Back in June 2022, four juveniles were charged after causing $100,000 worth of damage. Damage estimates for Saturday's break-in are between $20,000 and $40,000, Langlais said.
A parent notified police that her child had come home with a globe, and that is how authorities were able to identify suspects, Langlais said.
All seven of the juveniles have been identified. They will now go before the school board, and they could either be suspended or expelled, officials said.
"They'll have criminal related charges for criminal mischief, breaking and entering, theft," Langlais said.
Insurance adjusters were notified, and the school was cleaned over the weekend in time to reopen on Monday.
Langlais said he and the school committee members are frustrated and angry that this has happened again.
"How are kids between the ages of 8 and 12 on a Saturday night, after dark, out and about, without supervision? I just don't understand it," Langlais said.
"Our school committee has been very direct in the past, and I can anticipate they will be with this," he said.
Copyright 2023 WABI. All rights reserved.