Court date set for former Biddeford man charged in Jan. 6 riots
Christopher Maurer faces nine charges, including three counts of assault on Jan. 6, 2021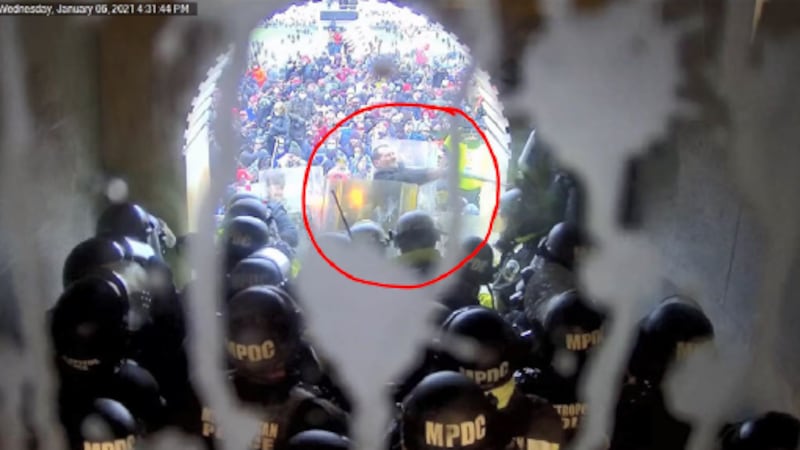 Published: Sep. 23, 2023 at 3:15 AM EDT
WASHINGTON (WABI) - A federal judge has set a court date for a former Biddeford man charged for his alleged actions, including assault, on Jan.6, 2021, at the U.S. Capitol building.
Christopher Maurer will now appear in federal court in Washington, D.C., on Jan. 22, 2024.
He has pleaded not guilty to nine charges, including three counts of assaulting an officer with a dangerous weapon. He is also charged with civil disorder, entering a restricted building, disorderly conduct in a restricted building, violence in a restricted building, impeding passage through Capitol grounds and engaging in physical violence on Capitol grounds.
Maurer was arrested in February of this year. He is the sixth Mainer accused of taking part in the riots on that day.
According to federal court documents, Maurer pushed to the front of the crowd, heading for an access tunnel blocked by law enforcement at around 3 p.m.
That's when footage then shows him trying to "pull a police shield and/or strike police officers who were helping another another rioter experiencing a medical emergency."
Maurer and the rest of the crowd were eventually rebuffed. Roughly 90 minutes later, Maurer is seen on CCTV footage screaming at officers on the police line before being sprayed by a chemical irritant to keep the crowd back.
Maurer is accused of then picking up a long metal pole and swinging it at the officers before leaving the tunnel.
In the months following the Capitol riot, investigators used cell tower data to match phone numbers with alleged rioters seen in videos and photos at the Capitol. Among the numbers traced was a Tracfone registered to Chris Maurer with a Biddeford home address attached to the account.
Investigators also found Enterprise Rental records showing Maurer rented a car from January 4, 2021 to January 7.
At the time of his arrest in February, he appeared to be living out of a 1999 gold Ford Expedition at the Interstate 295 Falmouth Park and Ride at Exit 15.
Copyright 2023 WABI. All rights reserved.