Man who threw flagpole at police during Jan. 6 riot gets more than 6 years in prison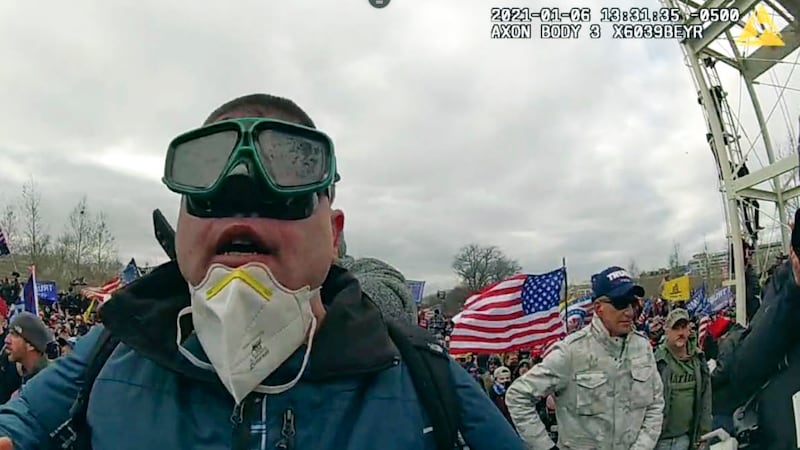 Published: Sep. 13, 2023 at 8:29 PM EDT
WASHINGTON (AP) — A Tennessee man who wrote on social media about wanting to "take over the Capitol building" before the Jan. 6, 2021, riot, where he threw a flagpole at a police officer's head, was sentenced on Wednesday to more than six years in prison.
Joseph Padilla, of Cleveland, Tennessee, was convicted in May of assault with a dangerous weapon, obstruction of Congress and other charges after a bench trial in Washington's federal court.
Padilla has been behind bars since his February 2021 arrest. U.S. District Judge John D. Bates, who found him guilty after the bench trial, ordered him this week to serve 6 1/2 years in prison.
Prosecutors say Padilla, a former prison corrections officer, spent hours the day of the riot verbally and physically attacking police, who were trying to beat back the angry mob of Donald Trump supporters as lawmakers met in the Capitol to certify then-President-elect Joe Biden's electoral victory.
After other rioters attacked police with objects such as crutches and a hockey stick, Padilla launched a flagpole toward officers, hitting one of them in the head, prosecutors said in court records. Prosecutors say he then lied under oath on the witness stand about it, claiming he was trying to hit another rioter.
A day after the riot, Padilla wrote on social media that he was "proud" of his actions, adding: "It's guns next, that's the only way," prosecutors said. Prosecutors also pointed to several of Padilla's social media comments calling for a revolution ahead of Jan. 6.
"We've gotta do it on the 6th or never at all. We have to take over the Capitol Building, immediately pass acts dissolving the current Legislative body, and fill the places with uncompromising Patriots from among those of us there," Padilla wrote in one post in late December 2020.
Padilla's lawyer told the judge that his client, a U.S. Army veteran, "regrets ever having gone to the Capitol on January 6th, 2021." Padilla's lawyer said the man has lived an "exemplary life" despite a "troubled upbringing," which included a stint of homelessness, and that his actions on Jan. 6 were "not typical of his life pattern."
Padilla "states that every day is torture having to live with the fact that his actions are the direct reason for his family's separation and hardship. He understands that his actions on January 6th caused himself and his family the pain and suffering they now deal with daily," defense attorney Michael Cronkright wrote in court papers.
An email seeking comment was sent to Cronkright after Wednesday's hearing.
More than 1,100 people have been charged with federal crimes stemming from the riot, which left dozens of police officers injured and halted Congress' certification of Biden's victory. Over 650 defendants have pleaded guilty. More than 600 have been sentenced, with over half receiving terms of imprisonment ranging from three days to 22 years.
Copyright 2023 The Associated Press. All rights reserved.