Maine plans to expand quarantine zones to stop tree-killing pests and protect its timber industry
Maine forestry officials are planning a wide expansion of quarantine zones to try to prevent the spread of three invasive forest pests that pose threats to the state's timber industry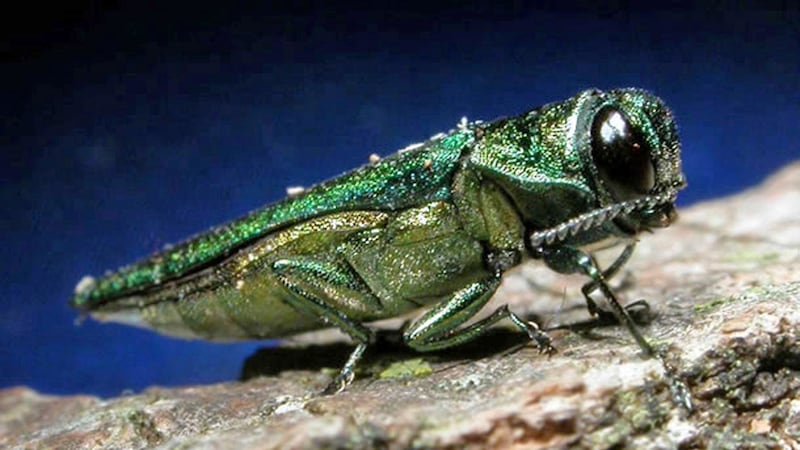 Published: Aug. 31, 2023 at 6:32 PM EDT
PORTLAND, Maine (AP) — Maine forestry officials are planning a wide expansion of quarantine zones to try to prevent the spread of three invasive forest pests that pose threats to the state's timber industry.
The pests are the emerald ash borer, the hemlock woolly adelgid and European larch canker. Forest managers in many states have tried to slow the spread of the borer and the adelgid, while larch canker has primarily been a concern in Maine and Canada.
The quarantine areas place restrictions on the movement of items such as firewood, logs, branches and plants in an attempt to stop the pests from spreading. The Maine Department of Agriculture, Conservation and Forestry wants to expand the zones for all three pests.
The borer poses a threat to the state's ornamental tree industry, the forestry department said in documents about the pest. The expanded quarantine zones are important "to protect Maine's forest, timber, and wildlife resources from this destructive pest," the department said in documents about the adelgid.
The three pests are all capable of killing trees. The adelgid, a tiny insect native to Asia, does so by sucking sap from tree needles, draining the tree of life.
Pests such as adelgid have become an increasing focus of forest managers and state governments in the U.S. as they continue to spread as the planet warms. Scientists have said the pests are helped by a warming climate and trees weakened by drought, and that global trade helps them move.
The emerald ash borer was first identified in the U.S. in 2002. Maine's forestry department wants to extend the quarantine area for the borer into multiple new counties in southern Maine. The department said that would protect more than 60% of the ash resource that is outside the current quarantine areas.
Larch canker is a disease caused by a fungus that ruins trees and makes them unsalable. The state's plan for the disease would expand quarantine zones north from the coast.
The forestry department is holding public hearings about the plan to expand the quarantine zones on Sept. 6. The hearings are being held in Augusta, Old Town and virtually.