Maine to prohibit the sale of fluorescent light bulbs because they contain mercury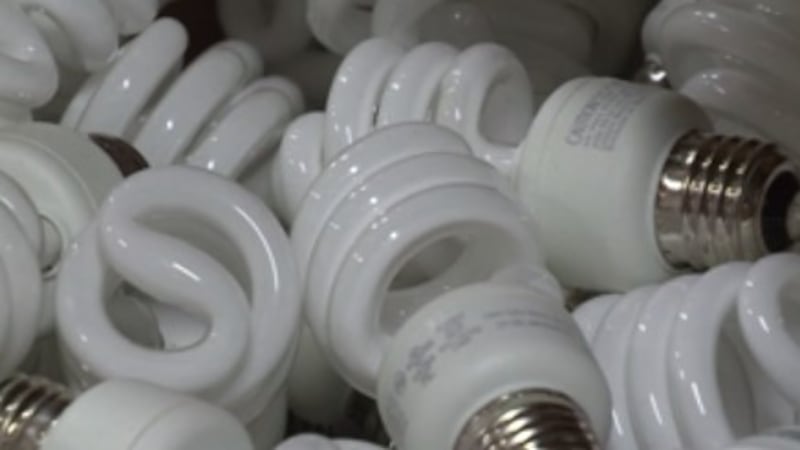 Published: Aug. 22, 2023 at 7:09 AM EDT
PORTLAND, Maine (WMTW) - One of the new laws adopted by the Maine State Legislature this year will change the way you change your lightbulbs by phasing out fluorescent bulb sales for environmental reasons.
When it takes effect in January 2026, the new law will make Maine the seventh state to ban the sale of fluorescent light bulbs, because they contain mercury.
"Mercury is a potent neurotoxin," said Sarah Nichols, Sustainable Maine Program Director for the Natural Resources Council of Maine, who helped craft the law, in an interview on Monday. "It gets into our air and water and bioaccumulates in our fish and the water that we drink and into our bodies."
Fluorescent bulbs that will no longer be sold can be replaced by LED bulbs that are twice as efficient and half the price.
Nichols said, "The problem really isn't the mercury when it's contained inside of the bulb. It's what happens to it when you're done using it. So, if that bulb smashes in your home or it smashes inside a landfill or an incinerator, that's when the mercury can escape out to the environment and poison us."
Maine Hardware, in Portland, is one of 61 independent retail stores in state that accept used fluorescents from anyone free of charge, both long tube-shaped bulbs and spiral-shaped ones.
"Customers bring these in for us to be able to recycle for them," Maine Hardware President Rick Tucker said, showing us the boxes where he collects the bulbs. "I had a gentleman this morning who brought in a whole bag."
Voluntarily participating stores ship the boxes to a mercury waste recycler designated by the Maine Department of Environmental Protection, Veolia North America.
DEP provides pre-paid shipping labels. The only cost to retailers is the boxes.
Tucker said, "For what we get out of it, with regard to servicing the community, it's a price well worth paying."
Maine law already prohibits throwing fluorescent bulbs in the trash, but only 16% are properly disposed of, according to DEP.
"You are technically breaking the law if you are finished with your mercury-containing light bulb and throw it in the trash, but not many people know that," Nichols said. "Definitely do not put it in your normal recycling bin, because it is very likely to break in there and release the mercury directly to the people who are handling that recycling -- or you."
The other states phasing out mercury-laden bulbs are Vermont, Rhode Island, Colorado, California, Oregon, and Hawaii.
"This law really takes the guesswork out for consumers. We don't really need to be offering them lighting that contains toxic mercury." Nichols said, "It's not illegal to have these light bulbs in your house. You can use them up. The problem is when it comes time to dispose of them."
The federal government banned the sale of incandescent bulbs on August 1.
Maine Hardware has already switched its store lights to LEDs.
Tucker said, "It's a better light. It runs cooler than the old incandescents or fluorescents. Far better for the environment, because they don't burn out as quick, so you don't have to change them as much."
Copyright 2023 WABI. All rights reserved.