"All you have to do is be nice. It's not that hard": Remembering Cpl. Eugene Cole 5 years later
The winners of the Corporal Eugene Cole Scholarship were also announced Tuesday.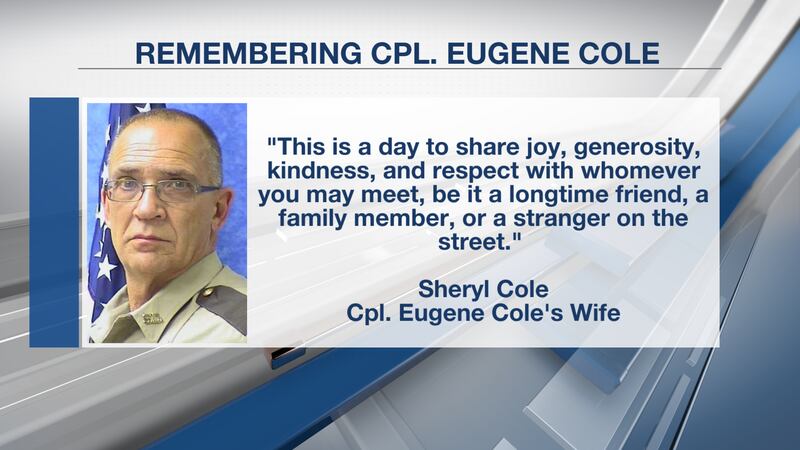 Published: Apr. 25, 2023 at 1:39 PM EDT
NORRIDGEWOCK, Maine (WABI) - Tuesday marks five years since Somerset County Sheriff's Corporal Eugene Cole was shot and killed in the line of duty.
April 25 is Corporal Cole Day in Norridgewock, where he was killed. To honor Cole and his service, the community is urged to volunteer, give back and get involved.
Cole's widow, Sheryl Cole, shared a message on Tuesday.
"This is a day to share joy, generosity, kindness, and respect with whomever you may meet, be it a longtime friend, a family member, or a stranger on the street," she wrote. "Show a smile for no reason. Open a door for the person behind you. Say 'thank you' to any Law Enforcement Officers, Firemen, Paramedics, Dispatch Operators, Nurses, Doctors, Medical Assistants, and all on the Front Lines, as well as those not so much in the front, but still just as important - Teachers and all that help educate our young ones, Cashiers and all that work in retail, Truck Drivers, Plow drivers, Line workers, Mechanics, Musicians, Entertainers, Chefs, Cooks, Waiters/Waitresses, and all in the food industry, Human Services, blue collar or white collar…everyone and anyone that does a service for others. We, as the human race, would be nothing without those that choose to serve others. So, all you have to do is be nice. It's not that hard."
The annual Cpl. Cole Memorial 5k & Half-Marathon has raised money for a scholarship in Cole's name that helps people who want to pursue a career in public safety. The event was held virtually during the COVID-19 pandemic.
The winners of the 2023 Corporal Eugene Cole Scholarship were announced Tuesday morning. They are Hunter Sousa of Carrabec High School, Zachary White of Skowhegan Are High School and Gabriella Manzer of Carrabec High School.
John Williams is serving a life sentence for killing Cole on April 25, 2018, as Cole was attempting to arrest him on a warrant. The killing sparked a four-day manhunt.
In 2022, the Maine Supreme Judicial Court rejected Williams' latest appeal.
Copyright 2023 WMTW. All rights reserved.