New technology gives Maine heart failure patients more freedom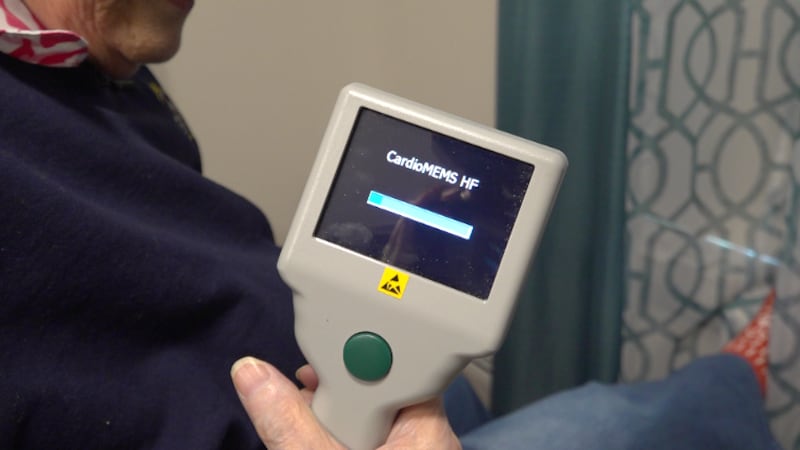 Published: Apr. 12, 2023 at 5:56 PM EDT
BANGOR, Maine (WABI) - At any given moment, Bangor resident Bev Fowler may have all sorts of numbers swirling through her head.
"I love Bingo! I work on the Bingo team," said Fowler. "One of my jobs is to make out the checks when somebody wins, so everyone loves me!"
And now, numbers related to her congestive heart failure are no longer front of mind.
"I don't have to worry about it. I don't even think about it anymore," Fowler said.
Bev's newfound freedom comes courtesy of a new system at Northern Light Health called CardioMEMS.
"CardioMEMS is a device that looks like a little mini wire," said Janet Glidden, RN, congestive heart failure care manager. "It gets into the pulmonary artery and it stays there. Then it gives us pressure readings."
"We have a number from the CardioMEMS device that says okay, when we implanted your device, we know that your pressures were so and so. And this is how you felt at that time. Now we see your pressures are much higher, and so with your much higher pressures and the fact that you feel a little short of breath, we know for sure that this is a heart failure exacerbation," said Alan Jansujwicz, MD, cadiologist.
Bev has had heart problems her whole life, but in recent years it kept landing her in the hospital for about a week at a time.
"Since I've had this put in, I've not been to the hospital," Fowler said.
The CardioMEMS readings are all done from the patient's home. Bev spends just a few minutes completing the routine each morning. The system sends the results directly to the hospital for Glidden to review.
"They know I'll call them if there's any concerns. It's comforting to them because they can stay home and that's where they want to be. They don't want to be here at the hospital," Glidden said.
If Bev's readings warrant a phone call, they'll work together to find the cause and find the right adjustment to help her get back on track.
The hope is early intervention stops a heart failure event before it happens and keeps Bev doing what she loves.
"I hope more people who have heart failure will do this because it's really, really good. I get a life now!" Fowler said.
Copyright 2023 WABI. All rights reserved.