MSAD 51 educators demand higher pay for ed techs and secretaries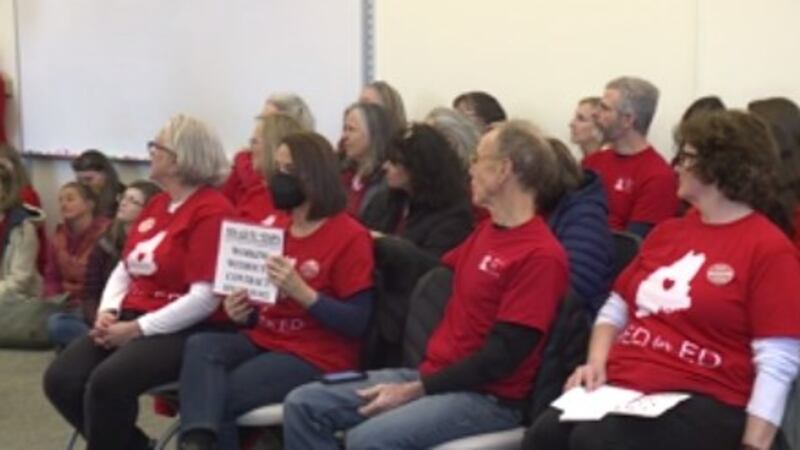 Published: Apr. 4, 2023 at 6:45 AM EDT
CUMBERLAND, Maine (WMTW) - Educators in MSAD 51 are demanding higher pay for ed techs and secretaries after union negotiations stalled, leaving those employees without a contract since June 30, 2022.
Dozens of educators spoke in front of the school board, urging them to meet their demands during a budget meeting on Monday.
"These people serve and protect all those people on a daily basis, and some of us are doing that with education, resumes, experience, for under $20 an hour," said a secretary in the district, Jessica Windsor, while gesturing to her coworkers during a public comment.
Union leaders say the district is losing ed techs and secretaries to higher-paying school systems, causing staffing shortages.
"That was pretty much a big disaster for our school district," said MSAD 51 Educators Association representative Jason Curry. "We lost a lot of ed techs. A lot of them went to other school districts that were offering more money. So, we tried to make sure that for this negotiating cycle, we got a contract that would make our district competitive."
According to Maine Education Association data, ed techs and secretaries in MSAD 51 earn roughly $2 less than they would in nearby districts.
"You've told these teachers over and over and over again that their hard work and irreplaceable effort in these schools isn't worth a livable wage," said Greely High School senior Neil Perkinson.
In a statement, MSAD 51 superintendent Jeff Porter said officials were working hard to reach an agreement.
"We value and greatly appreciate the hard work of all our educational technicians and secretaries, along with all of our dedicated and talented staff members of MSAD #51. We have a long history of collaborating with our local bargaining units in finalizing contracts that are both fair and equitable for staff, while balancing the interests of taxpayers. It is unfortunate and disappointing that the confidential matters of collective bargaining are being played out in public instead of through the established channels. The Board is confident that a fair and equitable resolution of these negotiations will once again occur, as has been the case for many years previously."
Since negotiations stalled, the union and district will soon enter fact-finding, a process that will cost taxpayer funds.
Copyright 2023 WABI. All rights reserved.