San Diego State ousts top seed Alabama from March Madness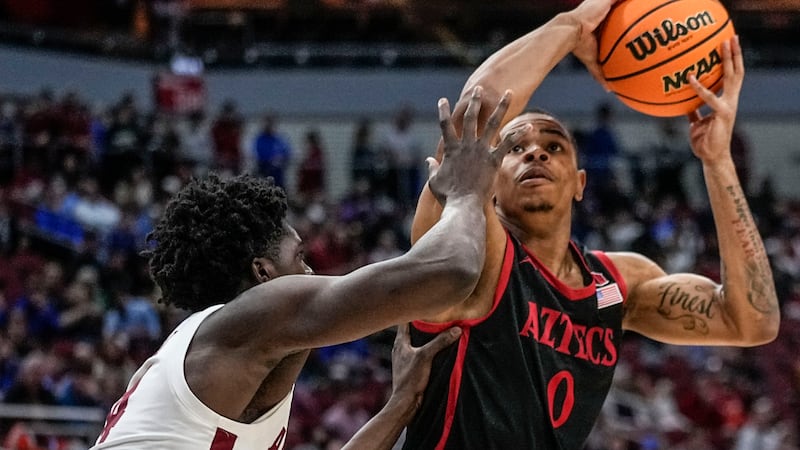 Published: Mar. 24, 2023 at 9:17 PM EDT
|
Updated: Mar. 24, 2023 at 11:39 PM EDT
LOUISVILLE, Ky. (AP) — San Diego State coach Brian Dutcher has insisted throughout the NCAA Tournament that if his team plays to its strengths, it doesn't matter what the opposition does.
The Aztecs certainly played the way they wanted to against the top overall seed in March Madness.
Darrion Trammell and San Diego State used a dominant defensive performance to knock Alabama out of the tournament, bottling up All-America freshman Brandon Miller in a 71-64 victory in the Sweet 16.
Trammell scored 21 points while Miller, whose outstanding season was marred by off-the-court complications, was held to nine points on 3-of-19 shooting and had six turnovers.
The fifth-seeded Aztecs (30-6) will face sixth-seeded Creighton on Sunday in the South Region final. Each program is seeking its first Final Four appearance.
Roughly 30 minutes after Alabama fell, the tournament's final remaining No. 1 seed, Houston, lost 89-75 to Miami, leaving March Madness without a single top seed among its final eight teams for the first time since seeding began in 1979. The other top seeds, Purdue and Kansas, lost during the tournament's opening weekend.
"It's just parity," Dutcher said. "That's what it is. There's not a lot of difference between the best team in the country and the worst team in the country. You're seeing that on this stage."
San Diego State trailed 48-39 midway through the second half before going on a 12-0 run and controlling the game from there. The Aztecs finished with eight blocked shots — five by Nathan Mensah — and forced 14 turnovers.
Trammell scored the first eight points of SDSU's big run. He made a 3-pointer, stole the ball from Miller and converted a layup, and then buried another 3.
"We're going to go on our run," Trammell said, "and I just took the opportunities they gave me. I took my shot, and I just made a play on defense. From there, our team was in it. That's when the momentum changed."
So did the Crimson Tide's season.
The March Madness run of Alabama (31-6) was clouded by its response to the Jan. 15 fatal shooting of a 23-year-old woman in Tuscaloosa, which led to capital murder charges against a then-Crimson Tide player, Darius Miles.
Miller was at the scene of the shooting and has not been charged, but police have said in court documents that Miles texted Miller to bring him his gun. Authorities have said Miller is a cooperating witness, and he did not miss any playing time. Miller received armed security protection during the tournament.
Mark Sears had 16 points and Jahvon Quinerly and Charles Bediako scored 10 each for Alabama, which shot 32% overall and a miserable 3 of 27 (11.1%) from 3-point range. The Crimson Tide fell short of the second Elite Eight berth in school history.
"We came to this game prepared as much as we could possibly," Miller said. "I think our shot-making could have been better. Our shot choices could have been better, but it's just that San Diego's a good group of guys. They're vets, so they have a lot of experience. I feel like they came out and played hard."
San Diego State's players knew they had to impose their will on Alabama's deep and gifted roster.
"Alabama's a great team. They have a lot of talented players and individuals," Trammell said. "We knew it was going to be hard. It was a dogfight. Very physical."
Sears' layup got Alabama within 66-64 with 46 seconds remaining, but Matt Bradley made two free throws and Micah Parrish followed by making three of four attempts, including two with 17 seconds left.
After the final buzzer sounded, Aztecs players and coaches rushed the court and hugged each other in a joyous celebration.
Jaedon LeDee finished with 12 points for the Aztecs.
San Diego State shot just 38% overall and was outrebounded 52-48, but made clutch shots to rally when Alabama seemed in control behind a faster pace after halftime. A technical foul on Dutcher also seemed to spark his seasoned team, which maintained its physical play and thwarted every attempt by the Tide to rally.
BLOCK PARTY
Mensah and Johnson had emphatic rejections with San Diego State ahead 53-50.
Both blocks came on layup attempts by Quinerly. Mensah swatted the first and Johnson rejected a subsequent attempt seconds later. Trammell followed with a step-back jumper for a five-point cushion.
BIG PICTURE
San Diego State: The Aztecs never seemed fazed by Alabama or Miller. More impressive was their resilience when the game seemed to be slipping away.
Alabama: Other than the second-half run that put them ahead briefly, the Crimson Tide seemed out of sorts in multiple ways. The team's reliance on 3-pointers showed its desperation.
___
AP March Madness coverage: https://apnews.com/hub/march-madness and bracket: https://apnews.com/hub/ncaa-mens-bracket and https://apnews.com/hub/ap-top-25-college-basketball-poll and https://twitter.com/AP_Top25
Copyright 2023 The Associated Press. All rights reserved.