A Nice Day Today, Rain & Snow Likely Thursday
Published: Mar. 22, 2023 at 7:16 AM EDT
|
Updated: Mar. 22, 2023 at 8:16 AM EDT
BANGOR, Maine (WABI) - High pressure will bring us a nice day today with a mix of sun and clouds and highs in the upper 30s to mid-40s. Clouds will move in tonight along with a chance for snow showers after midnight as a warm front approaches the state. Overnight lows will be in the 20s to near 30° north and low to mid-30s closer to the coast.
Low pressure is forecast to move through the area Thursday. The warm front will continue to lift northward through the state Thursday, allowing warmer air to move into the area as the day progresses. Rain and snow showers are possible early in the day followed by steadier precipitation developing from west to east by late morning to around lunchtime. Precipitation will fall as rain for areas south of Dover-Foxcroft and Lincoln with mixed rain and snow changing to rain from Dover-Foxcroft to Lincoln northward to Greenville and Millinocket then precipitation stays mostly snow north of Millinocket. Temperatures on Thursday will be in the upper 30s to mid-40s from north to south across the state. Precipitation should remain fairly steady through the late afternoon and early evening hours then taper off later in the evening. It looks like by the time precipitation winds down Thursday night, light accumulations of snow of a coating to an inch or two can be expected around Greenville to Millinocket and Houlton, North of there, the amounts will be higher with Northern Aroostook County seeing as much as 3″-7″.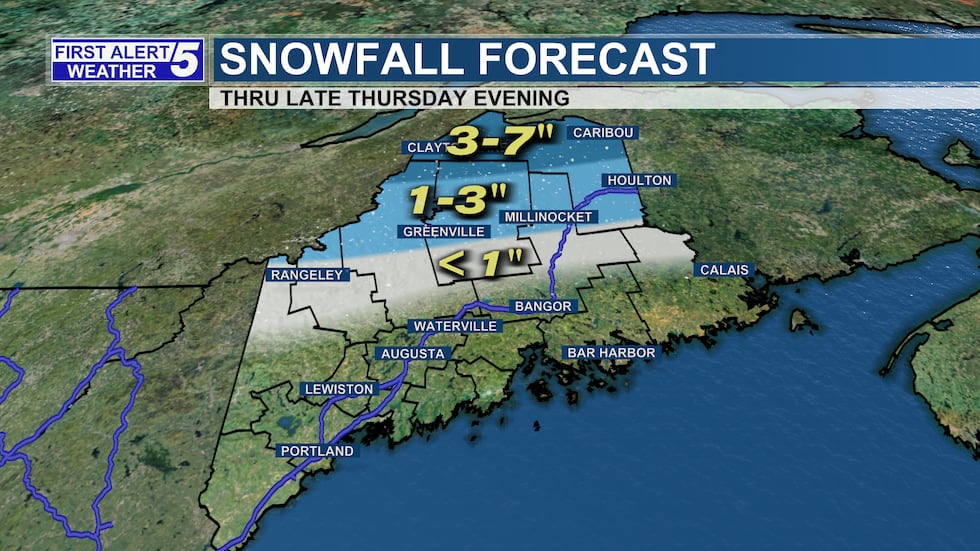 High pressure building into the region Friday with give us a brief break between storm systems. We'll have a mix of sun and clouds Friday with highs in the upper 30s to mid-40s. Another, more significant, storm is forecast to move through the Great Lakes Region Saturday with a secondary area of low pressure developing near Cape Cod late Saturday then moving through the Gulf of Maine Saturday night and Sunday morning. At this point, there is pretty good agreement that Saturday should be a decent day overall with precipitation holding off until later in the day or sometime Saturday evening then continue through the first half of the day Sunday. So expect increasing clouds during the day Saturday with snow possible towards evening. Temperatures on Saturday will be in the mid-30s to low 40s. Snow will become steadier and heavier Saturday night and continue through Sunday morning before tapering to snow showers Sunday afternoon. It still looks like several inches of snowfall can be expected across the entire state. An early estimate on snowfall totals looks like 3″-6″ along the coast where it will be a wetter, heavier snow and 5″-9″ expected across the rest of the state. Of course, this is still several days away and many things can change between now and then so stay tuned for forecast updates but at this point, it looks like we're going to need to break out the shovels and plows again this weekend.
Today: Mix of sun and clouds. Highs between 37°-47°. Light and variable wind.
Tonight: Becoming cloudy. Snow showers possible after midnight. Lows between 20°-35°. Light and variable wind.
Thursday: Mostly cloudy. Rain and snow developing north of Bangor and rain developing from Bangor to the coast by mid to late morning. Highs between 38°-45°. Southeast wind 5-15 MPH.
Friday: Mix of sun and clouds. Highs in the upper 30s to mid-40s.
Saturday: Increasing clouds. Snow possible by evening. Highs in the mid-30s to low 40s.
Sunday: Morning snow tapering to snow showers during the afternoon. Highs in the 30s to near 40°.
Copyright 2023 WABI. All rights reserved.