Maine man sentenced to spend one week in jail for participating in January 6th Capitol Riot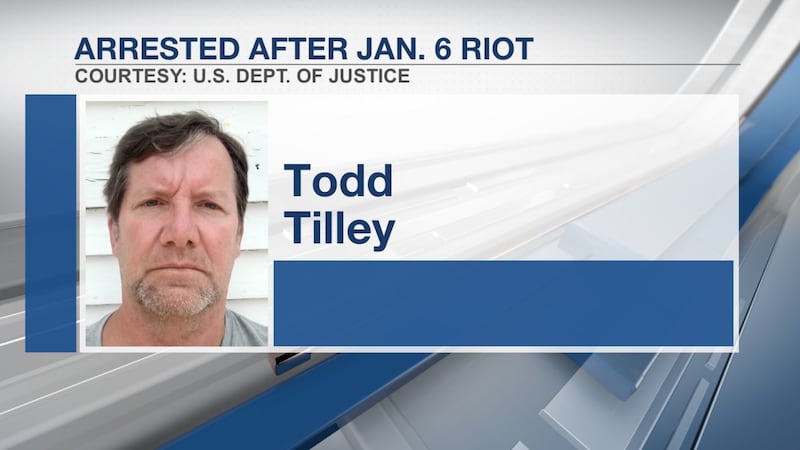 Published: Mar. 14, 2023 at 10:41 PM EDT
Maine (WMTW) - A Maine man who participated in the January 6th Capitol Riot has been sentenced to spend a full week in jail.
61-year-old Todd Tilley, of South Paris, entered into a plea bargain with federal prosecutors in Washington federal court on Monday.
Tilley admitted his guilt to one misdemeanor -- parading, demonstrating or picketing inside the Capitol building -- along with rioters protesting Donald Trump's loss in the 2020 presidential election to Joe Biden and trying to stop Congress from certifying the result.
Prosecutors dismissed three other misdemeanor charges.
U.S. District Court Judge Trevor McFadden ordered Tilley to serve seven consecutive days of confinement, to complete 60 hours of community service within six months, and to pay $500 in restitution.
Tilley, arrested last June, is one of six Maine men – and among more than a-thousand nationwide – to face criminal charges for January 6th.
The first five Mainers charged, including Tilley, have now been convicted.
The most seriously charged riot defendant from Maine, Kyle Fitzsimons, most recently a resident of Lebanon, faces years in prison when he is sentenced on April 4, for assaulting police officers during the riot.
A judge found Fitzsimons guilty of all 11 counts last September after a four-day bench trial.
Glen Simon, originally from Minot but now a Georgia resident, was sentenced last August to eight months in prison.
Nick Hendrix, an Army veteran from Gorham, was sentenced last December to one month in jail.
Josh Colgan, from Jefferson, pleaded guilty in January and is scheduled to be sentenced on April 25.
Chris Maurer, from Biddeford, was arrested and charged last month and transferred to Washington for further proceedings.
Copyright 2023 WABI. All rights reserved.