Nor'easter moves into Maine
Published: Mar. 14, 2023 at 5:52 AM EDT
|
Updated: Mar. 14, 2023 at 12:49 PM EDT
BANGOR, Maine (WABI) - A nor'easter is working its way through the Northeast. Both Tuesday and Wednesday are First Alert Weather Days. The main hazards will be heavy, wet snow and gusty winds. The heaviest impacts will be late afternoon and tonight.
As for the winds, expect them to gust between 45-55 mph along the coast and between 35-45 mph inland. They will be at their strongest this afternoon and evening. This could cause blowing snow and reduced visibility. The threat of power outages exists, especially along the coast where the wind gusts will be the strongest.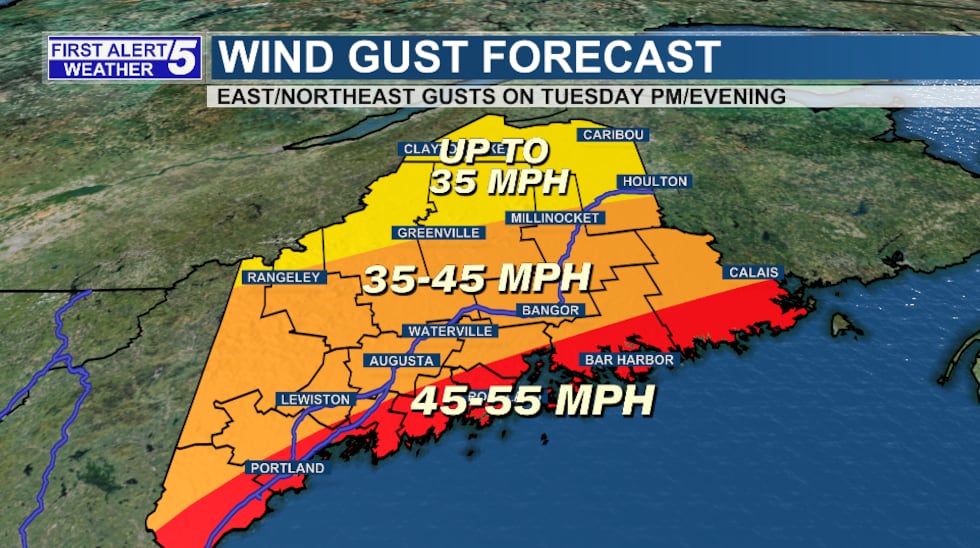 Snow will continue tonight but become more scattered in the morning. Coastal areas may see snow change over to a wintry mix before changing back to snow on Wednesday. Winds will decrease a bit overnight, but they will still gust up to 35 mph.
Scattered snow showers will continue through Wednesday and taper off Wednesday evening. Some of these snow showers could be heavy at times, especially along the coastline. Winds will shift out of the north and gust up to 35 mph.
The heaviest snowfall will be across southern and midcoast Maine, where 10″+ could fall. The Augusta, Waterville, Bangor and Downeast regions can expect 6-10″. Greenville and Millinocket areas should expect 3-6″ while far northern Maine will see 1-3″.
Highs pressure will move in on Thursday. Partly cloudy skies are expected, and highs will return to the 40s.
TUESDAY: Snow moving in. Highs in the 30s. Gusty northeast winds. Inland: 10-20 mph with gusts 35-45 mph. Coast: 20-30 mph with gusts 45-55 mph.
TUESDAY NIGHT: Snow with some mixing along the coast. Lows 26-31°. Northeast wind 10-20 mph with gusts 25-35 mph.
WEDNESDAY: Scattered snow showers, heavy at times. Highs in the 30s. North wind 10-20 mph with gusts 25-35 mph.
THURSDAY: Partly cloudy skies. Highs in the mid 30s to low 40s. Northwest wind 10-20 mph.
FRIDAY: Mostly cloudy with rain and snow late. Highs in the upper 30s to upper 40s. West wind 5-10 mph.
Copyright 2023 WABI. All rights reserved.