New Year's Eve machete attack suspect pleads not guilty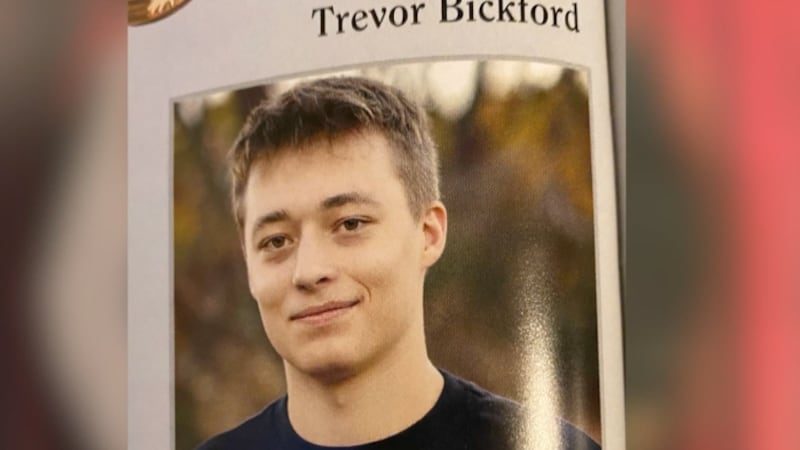 Published: Feb. 8, 2023 at 6:13 PM EST
NEW YORK (AP) — A Maine man charged with attacking police officers with a machete near New York's Times Square on New Year's Eve pleaded not guilty Wednesday to attempted murder and assault charges in a new state indictment.
Authorities have said Trevor Thomas Bickford of Wells, Maine, began studying radical Islamic ideology last summer. They say the 19-year-old decided in November to wage jihad against U.S. officials and officials of other governments he thought to be anti-Muslim.
Bickford entered the plea to the 18-count indictment during an appearance in state court in Manhattan. His lawyer, Rosemary Vassallo, would only confirm the plea and declined further comment in an email to The Associated Press.
Bickford is also facing federal terrorism charges.
Three officers were injured in the attack at the edge of the high-security zone where throngs of revelers had gathered, about two hours before the new year began. Prosecutors say Bickford shouted "Allahu akbar" — the Arabic phrase for God is great — before striking the officers in the head with the machete and trying to grab an officer's gun. One officer suffered a fractured skull.
Bickford was shot in the shoulder by police and taken to a hospital. He's now detained without bail.
Manhattan District Attorney Alvin Bragg announced the state indictment earlier Wednesday. The charges include six counts of attempted murder and 10 assault charges.
"Trevor Bickford allegedly carried out planned attacks on three members of the NYPD in Times Square on New Year's Eve as they did their duty to protect our city," Bragg said in a statement. "The charges contained in the indictment demonstrate just how seriously we are treating this incident."
The Legal Aid Society, a public defender organization representing Bickford, has urged the public "to refrain from drawing hasty conclusions and to respect the privacy of our client's family."
Copyright 2023 The Associated Press. All rights reserved.