Accumulating Snow For Friday
Published: Jan. 19, 2023 at 4:02 PM EST
|
Updated: Jan. 19, 2023 at 9:13 PM EST
BANGOR, Maine (WABI) - Snow has now started to move into western & southern Maine and will spread north and east into the early morning hours on Friday. Lows for the rest of the night will range from the upper teens to the upper 20s. The heaviest snow will occur during the first half of Friday and will result in messy and snow-covered roads just in time for the morning commute.
There will be moderate to heavy bands of snow setting up along the coast and around the Augusta area during the first half of the day. This will result in rapidly deteriorating conditions along with low visibility. Winter Weather Advisories and Winter Storm Warnings have been issued for parts of the region.
Statewide snowfall totals will be highest over southern areas where 8″+ of snow will be possible. For our region, the highest totals will be along the coast, for the Capital Region and the Western Maine Mountains where 4-8″ which also includes Bangor. Towards Greenville and Millinocket totals will range from 2-4″. The snow intensity will dwindle by the afternoon and end by the early evening. Highs on Friday will be in the upper 20s and low 30s. A NNE wind could gust up to 30 mph at times. This will create areas of blowing snow.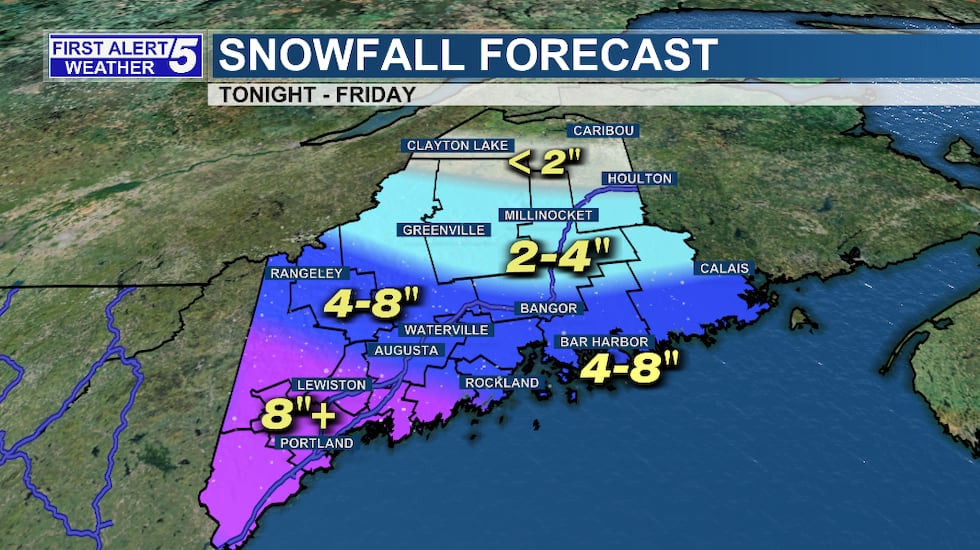 Brighter and drier conditions expected for the weekend with highs mostly in the 30s.
Our active weather pattern will continue into next week. Watching another low-pressure system for Sunday night into Monday. This storm will be highly track dependent as a more northerly track will mean a warmer/rain event where a southerly track will mean a colder/snow event. As it stands right now, it looks like a more southerly track will be favored. This would mean areas north of I-95 would see wet heavy snow. Communities along, south & east of I-95 would have a mix of rain and snow. Strong winds will also accompany the precipitation. Winds will initially be out of the south before shifting out of the NNW with gusts that could reach up to 50 mph. As of now, a FIRST ALERT WEATHER DAY has been issued for Monday.
Conditions will improve by Tuesday with a breeze in the morning followed by afternoon sunshine and highs near freezing.
There will be more active weather by Wednesday afternoon and into Thursday as another low-pressure system sets its sights on the region. Right now, this event will be all snow and will have a breeze to go along with it.
TONIGHT: Increasing clouds with snow arriving after midnight. Lows will range from the upper teens to the upper 20s. NE wind 5-15 mph.
FRIDAY: Snow likely with the heaviest snowfall in the morning. The greatest snowfall totals will be south & west of Bangor. Highs in the 20s and low 30s. NNE wind with gusts up to 25 mph.
SATURDAY: Mostly sunny skies. Highs in the 20s and low 30s.
SUNDAY: Partly cloudy to mostly cloudy skies with highs in the low to mid 30s.
MONDAY: First Alert Weather Day. Rain/snow mixture possible. Highs in the mid to upper 30s and low 40s. Southerly winds will shift out of the northwest gusting up to 50 mph.
TUESDAY: Mostly sunny with a breezy northwest wind in the morning. Highs in the upper 20s and low 30s.
WEDNESDAY: Mostly cloudy with snow spreading across the region during the afternoon. Highs on either side of freezing.
Copyright 2023 WABI. All rights reserved.