Thomas Freel, Cole Hanson score crunch time game-winning goals for Black Bears
They helped secure a two-game sweep of Alaska Anchorage
Published: Jan. 10, 2023 at 4:00 PM EST
ORONO, Maine (WABI) - Two underclassmen forwards scored some big-time goals to help Maine sweep Alaska Anchorage over the weekend.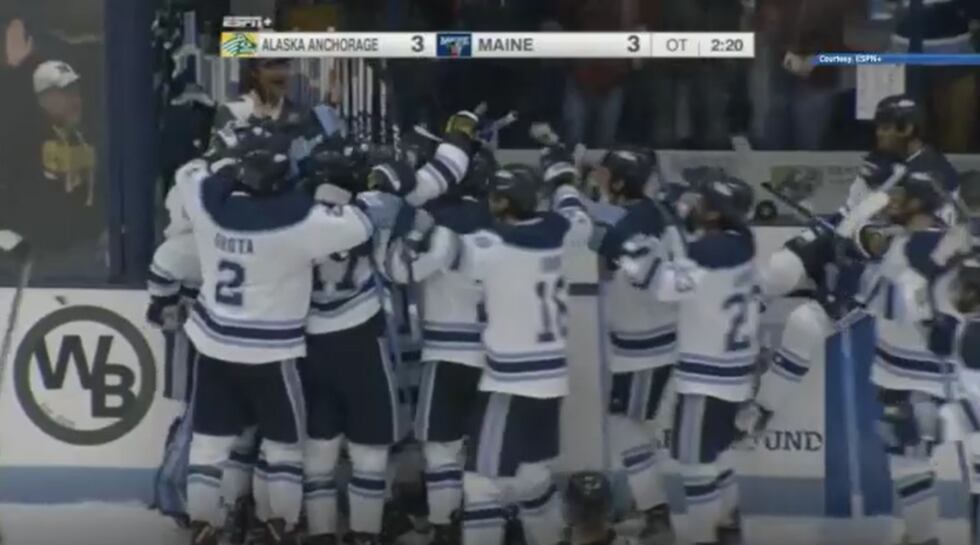 Freshman Thomas Freel scored Friday's game-winner with 20 seconds left, while sophomore Colgate transfer Cole Hanson buried the overtime winner on Saturday against the Seawolves.
"Nolan Renwick was able to get the puck up the way to David Breazeale. He got a shot through, and it kind of just bounced within my feet. I was able to pick it up, spin around, get a shot off, and fortunately it was able to beat the goalie and go in," said Freel.
"That was pretty much all Ben Poisson. He made a great effort play and took a good angle on the defenseman. We kind of knew that the defenseman was gassed after being out there for the whole overtime up to that point. Ben did a great job with a high effort play to strip him. I was just lucky enough to be in the right place at the right time. He gave me the breakaway, and I was lucky enough to finish it off," said Hanson.
The players showed up big in big moments. They're giving the Black Bears depth scoring.
"Both those guys have been really good teammates and culture guys. It really starts with their work ethic," said Ben Barr, head coach.
The wins give them some momentum heading toward Hockey East play.
"We're starting to find our feet again and get better and better every game," said Freel.
"We have a tough 16-game schedule coming up. We know that. I'm really confident in our group and what we can do in Hockey East. We're really excited for the challenge," said Hanson.
The Black Bears are in Hockey East play the rest of the way starting Friday with UMass Lowell in Orono.
Copyright 2023 WABI. All rights reserved.