Sheep shearing, fiber arts focus of upcoming Cancer Care fundraiser
The day-long Sheep for a Cure will benefit Cancer Care of Maine in Brewer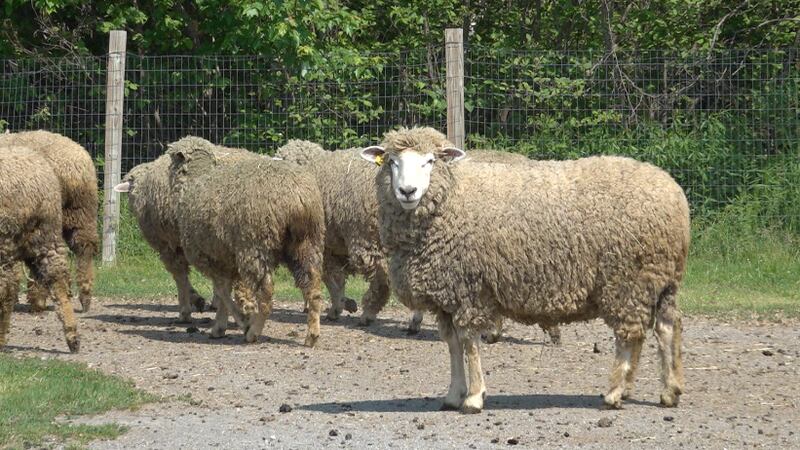 Updated: Jun. 8, 2021 at 2:53 PM EDT
HERMON, Maine (WABI) - There will be shear delight this Saturday in Hermon as Maple Crest Farm hosts Sheep for a Cure.
The fundraiser benefits Cancer Care of Maine, a cause close to organizers' hearts.
"I keep telling people the farm in and of itself is a draw," said Edith Kershner, Maine shearer. "And then just having these extra events, which are dying arts, really. Shearing is a dying art."
Now in its third year, Kershner's sheep shearing competition spotlights an age-old farming tradition. Entrants are judged on their speed, pattern, and smoothness of the sheep.
"I started this competition actually because when I was a girl, I would go to competitions with my dad, who was a shearer, and it would be a really fun, family day. We'd take a picnic lunch," Kershner said.
This year she's teaming up with Stacey Wilson, coordinator of the Maine team for the International Back to Back Wool Challenge.
"You hand shear the sheep, spin the greasy wool, and knit a sweater all in one day. It's an eight-person team event. One person hand shears the sheep while the other seven start spinning the greasy wool right off the sheep. It ends up being four people knitting. One knits the front, one knits the back, two other people knit the sleeves, and at the end of the day you have a full adult sweater," said Wilson, a fiber artist.
They had planned to debut their joint event for the public in 2020, but COVID-19 had other ideas.
Finally, this Saturday at 9:00 a.m., it will all come together at Maple Crest Farm.
The day-long Sheep for a Cure will benefit Cancer Care of Maine in Brewer. Maple Crest Farm co-owner Trisha Martin previously received treatment for lymphoma there.
"I enjoy sharing the farm with the public, but it's great to see people support cancer. I know cancer touches so many lives. It's just nice to have people come and enjoy the outdoors since it's been a crazy year, and support a really good cause," Martin said.
Kershner's father died of leukemia when she was just 14 years old.
Wilson also lost her grandfather to cancer. He was the reason she got into the fiber arts in the first place.
"So cancer has really affected my family. My belief is $1 will one day find us the cure. When it comes to fleece and finding a cure, there's no better pair in my book," Wilson said.
Saturday's event is free to the public, but donations are welcome.
Copyright 2021 WABI. All rights reserved.