Wish granted to Bangor boy battling kidney disease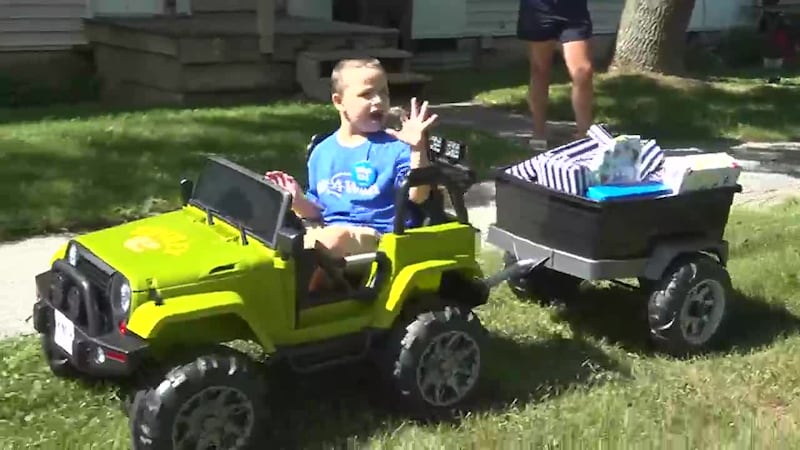 Published: Jul. 16, 2020 at 6:08 PM EDT
BANGOR, Maine (WABI) - A parade of cars rolled by a home in Bangor Thursday.
They were celebrating wish day for a young boy with kidney disease.
Six year old Bentley was all smiles as he watched the parade go by his home.
Make-A-Wish Maine Director of Mission Delivery Sonya Purington tells us it was a much needed celebration.
"The family has been holed up at home and living with not only a pending transplant but also the pandemic. They really felt like they wanted to have a good experience."
Bentley has battled kidney disease since he was an infant and is scheduled to have a transplant next week.
"We're super excited to get this wish in for him today before that big surgery."
For his wish, Bentley decided on a virtual shopping spree.
"He spent a lot of fun time with his mom filling up a cart online and figuring out what he wanted." said Purington.
The items, many of them dinosaur-themed, were delivered with much fanfare.
He took right away to a bubble machine and a brand new Power Wheels Jeep, which he rode around his yard to the cheers of onlookers.
"He knows some of the stuff he's getting, but he doesn't know all of it. And we always add a lot of extra Make a Wish surprises as we always do."
Purington says while some travel-based wishes can't be granted right now, they have a busy summer and fall ahead making wishes come true.
"There still are so many kinds of wishes that we can grant."
Copyright 2020 WABI. All rights reserved.